Articles and annual reports of the FI Association of Industrial Partners
Annual Report 2022 - Article Annual Report 2022 - flyer Annual reports and articles archive
Annual Report 2022 Article
Barbora Bühnová, Dorota Jůvová, February 27, 2023
The Association of Industrial Partners (SPP FI MU) has a long tradition at the Faculty of Informatics, Masaryk University. Since 2007 it has been supporting companies' cooperation to achieve the best possible results in the field of computer science and information technology.
The Association of Industrial Partners (SPP FI MU) which in 2022 worked with 30 companies in three categories of cooperation (Strategic partner, Partner, and SME partner), connects scientists with students in the field of research, teaching, supports PhD students and engages in other activities, which you can read about in this article.
Final Theses
The number of successfully defended theses in cooperation with companies is one of the indicators of the quality of cooperation in the SPP partnership. Last year, students successfully defended 93 bachelor's and master's theses in cooperation with companies involved in SPP.
Dean's Award for the final thesis
The following students were awarded the Dean's Prize for the final thesis in cooperation with Lexical Computing, Red Hat Czech, Safetica, Sanezoo, Trusted Network Solutions, and Wereldo:
Part of this activity is the Competition for the best final theses in the field of IT security, in which 5 winners received scholarships with the support of InvaSys, Red Hat Czech and Y Soft companies.
Competition for talented FI students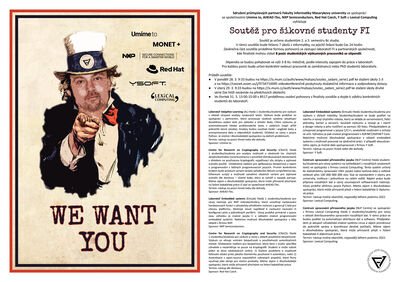 A popular SPP activity is the Competition for Talented FI Students, which has a tradition of more than ten years in conjunction with SPP companies. The competition is open to 2nd and 3rd bachelor students and takes place at the end of March and the beginning of April. Finalists are eligible for research positions in FI laboratories, with a possible scholarship support. In 2022, Red Hat Czech, Lexical Computing, Monet+, Y Soft, NXP Semiconductors, and Umíme to joined the competition. The final 12 participants made it to final round, and 8 students were awarded research position in the laboratory.
Interesting projects
Cooperation on the TAČR AHISTO (Historical sources at your fingertips) project with Lexical Computing continues. In partnership with Red Hat Czech, the CHESS (Cyber-security Excellence Hub in Estonia and South Moravia) project within the HORIZON program is being launched. The project "Framework for Active Monitoring of Network Services" (thesis of Samuel Dudík) was carried out with Progress (Flowmon Networks). A tool for generating penetration testing reports was developed in cooperation between Trusted Network Solutions and the CYBERSEC laboratory with the name - Penetration Testing Report Generator. Konica Minolta offers valuable applied research in text and image analysis for students at all levels of study. Monet+ supports research in applied cryptography. With TESCAN, doc. Pavel Matula contract research project, work contract "Design of an algorithm for image marker detection using mathematical morphology."
Days with Industrial Partners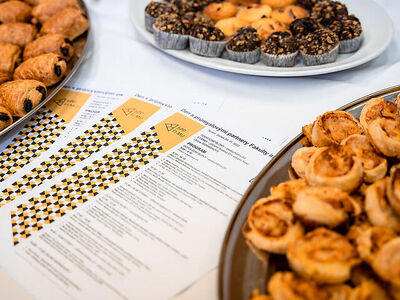 The spring and autumn Day with Industrial Partners (SPP Day) was again held on the faculty's premises. This traditional day-long event offers students and others interested in what is happening at the Faculty of Informatics of MU the opportunity to learn about how FI MU cooperates with companies in the Association of Industrial Partners (SPP) and to learn more about the opportunities to actively participate in connecting the university with the world of practice and how to benefit from the cooperation. Program was divided into 4 main thematic blocks, in which representatives of companies took turns as speakers. The first block was conducted in English in both spring and autumn terms, and the number of women speakers in each block increased. Students and visitors had the opportunity to meet company representatives at the booths. Workshops from the companies were held directly at the faculty in the spring term and online in the autumn term. Spring SPP Day included a competition for students interested in cyber security - the New Generation of Pentesters* Competition for the most convincing phishing with a follow-up workshop. The Days with Industrial Partners were accompanied by a pleasant atmosphere, and the student's interest in the company booths was especially appreciated.
Participation in teaching
More than half of the companies actively teach in nearly 40 subjects. The most active in this respect are Red Hat Czech and Lexical Computing, Konica Minolta, Oracle, and Techniserv. Red Hat Czech is particular in teaching, as it runs entire courses during a significant part of the semester. For spring, it was another run of the Open source development course, where students contribute to an actual upstream project. In the fall, a new pilot seminar group was created in the PV177 Laboratory of Advanced Network Technologies course, with engineers from Red Hat Czech teaching six courses. At Monet+, another upstream approach, Mobile Security, is in the works.
Sponsored PhD positions
In 2022, companies regularly supported 15 PhD students. All strategic partners InvaSys, Konica Minolta, Lexical Computing, and Red Hat Czech, in addition to Monet+ and Wereldo, provide support to PhD students.
Offer of internships for students and job opportunities for graduates
Another activity that has seen an increase in FI cooperation with companies is internships. This is an increase of more than half of the internship places in companies, namely 96 internship places for students who complete internships with SPP partners. Among the most active in this area are Red Hat Czech, InQool, BiQ Bluesoft, Oracle, Kentico Software, and Monet+.
Internships are a mandatory part of 4 programs:
2 master's - RSSS (Mgr.) and Software Engineering (Mgr.)
2 bachelor's - Programming (Bc.) and Cybersecurity (Bc.)
Research groups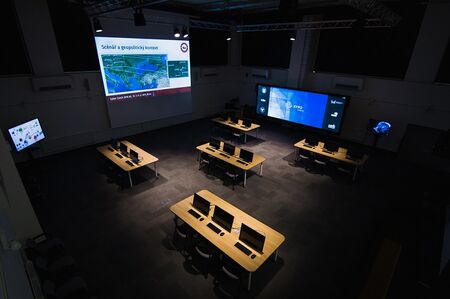 An important part of the Association of Industrial Partners, without which the cooperation would not be possible and they deserve a big "thank you" for it are FI research groups and laboratories. They include:
CRoCS (Center for Research on Cryptography and Security)
Research Lab Software Architectures and Information Systems (LaSArIS)
Centre for Biomedical Image Analysis (CBIA)
Design and Architecture of Digital Systems Laboratory (EmLab)
Natural Language Processing Centre (NLP)
Research laboratory Sitola
Laboratory of Data Intensive Systems and Applications (DISA)
Adaptive Learning Research Group
Cybersecurity Laboratory (CYBERSEC)
Other activities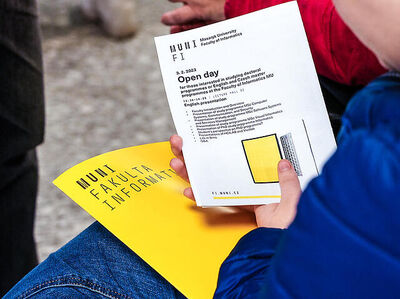 Konica Minolta participated in the Researchers´ night with the theme Papers and Clouds (Digital Workplace, in collaboration with NLP). Red Hat Czech and Kentico supported the FI Film Festival, and the Open Days at the Faculty of Informatics MU involved Red Hat Czech, Kentico, and Monet+. Some companies also engage in publishing activities as part of their cooperation. Umíme to has published several publications as part of the collaboration, e.g., Code Quality Defects across Introductory Programming Topics or Improving Learning Environments: Avoiding Stupidity Perspective. Similarly, Wereldo has published several papers as part of the collaboration, one titled Adaptive extensive neighborhood search for a rich vehicle routing problem with private fleet and common carrier at VeRoLog 2022 and others to be published at international conferences. The students participated in a competition organized by NXP Semiconductors in autonomous driving of car models. A one-week intensive coaching Summer Camp took place directly in the Oracle company. Students had the opportunity to learn more about agile development and work together on exciting projects. The cooperation was completed with the admission of 3 interns. VF organized an excursion on its premises.
We want to thank all of you who continue to support the collaboration, companies and their representatives, research laboratories, contact persons from the Faculty of Informatics, and students. We hope you continue supporting the collaboration and bringing suggestions and ideas for joint activities.