Articles and Annual Reports of FI Association of Industrial Partners
Reflections on AIP Day autumn 2021 Annual Report 2020 - article Annual Report 2020 - flyer Annual Reports and Articles Archive
Reflections on the Day with industrial partners, autumn 2021
Dorota Jůvová, Barbora Bühnová 19. 11. 2021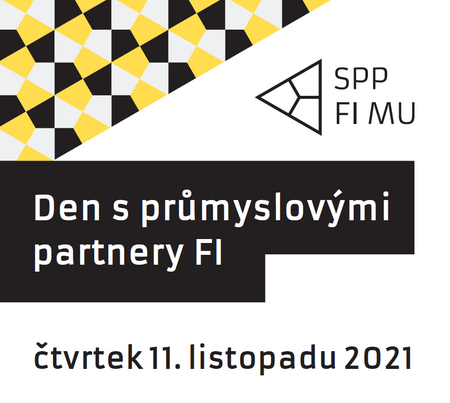 On Thursday, November 11, 2021, Faculty of Informatics at Masaryk University (FI MU) hosted the Day with Industrial Partners (SPP Day), online for the third time in a row - a traditional all-day event that offers students and other interested parties at FI MU the opportunity to meet to learn how FI MU cooperates with companies within the Association of Industrial Partners (SPP) FI and thus learn more about the possibilities of how to actively participate in connecting the university with the world of practice, and how to benefit from the cooperation.
Although there was a great effort on the part of the faculty and companies for an in-person form of the event, the event in the end took place online again due to the covid-19 pandemic situation.
More than 150 students from the Faculty of Informatics and another 50 guests and those interested in learning more about the activities at FI MU from the public registered for the event.
The program was divided into 4 main thematic blocks, organized via the Zoom platform. Furthermore, students and visitors had the opportunity to meet with company representatives through online booths on the Discord platform. Once again, thematic workshops of the companies were represented.

Based on the suggestion from the last year, we included a block in English, which was the first block within the program. Barbora Bühnová, Vice-Dean for Industrial Relations at the Faculty of Informatics, was the moderator of Block 1 entitled Innovation and R&D in partner companies - lessons and future directions. The speakers in this block were Ondřej Krajíček, Chief Technology Strategist at Y Soft, Tomáš Szaszi, Director of Business Development - Innovation Leader at Honeywell, Pavel Minařík, Chief Technology Officer at Flowmon Networks / Kemp, Tibor Szabó, Chairman of the Board at inQool and Libor Michalčík, Kyndryl CIC Brno Operations and Transformation Leader, Statutory representative from Kyndryl. This discussion touched topics such as where R&D and innovation are done, whether companies have special R&D teams or these activities are integrated into development, what are the differences between R&D and development, what R&D technologies they work in and whether the technologies are the same or different than in development. You could learn what it takes to be qualified for R&D. Of interest was the explanation of the difference in the mindset of entrepreneur vs intrapreneur, and the topic of the product roadmap. It was also stimulating to share how customers are involved in R&D, connections of R&D with the university, and especially the involvement of students in R&D. You can watch video from blok 1 here.

Block 2 was devoted to presentations on the topic Insight into the background of successful projects from the practice and cooperation of FI and companies, moderated by Václav Matyáš, Vice-Dean for Alumni Relations and Lifelong Learning, FI MU. Vít Suchomel from Lexical Computing presented their student (doctoral) project Better web corpora for corpus linguistics and NLP, Hana Rudová for FI MU and Wereldo project Freight transport planning in cooperation with Wereldo, Jaroslav Ráček for FI MU and TECHNISERV project Tevogs and Kamil Dudka from Red Hat projekt AUFOVER. The second block began with a short presentation, where all participants and their projects introduced themselves. After that, each of the performers was introduced to an interesting project in cooperation with FI and the company. There was also a debate on the possibility of involving students in final theses in cooperation with companies, and in the end they were given an opportunity to talk about examples of failure that led to lessons to be avoided when implementing projects on the border between company and university. You can watch video from blok 2 here.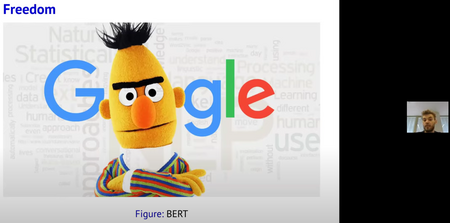 Another block, Block 3 entitled Short presentations of interesting student projects and final theses, was entirely devoted to students and graduates (not only the Faculty of Informatics) and their projects and final theses. Michal Starý, who presented a project with Konica Minolta, Adrian Hrinko with a presentation of his diploma thesis in connection with Safetica, Adam Chovanec and Eva Krajníková presented their projects in cooperation with Trusted Network Solutions, Daniel Filakovský with a project for Kentico Software. Then Vlasta Ohlídalová, a student of the Faculty of Arts with a bachelor's thesis for Lexical Computing, Jan Lorenc, a student of the Faculty of Information Technology at VUT, who presented a bachelor's thesis in conjunction with Y Soft Tomáš Soukal, a graduate of FI MU with a project for Ahead iTec. This block was an example of how very clever students are and especially how well cooperation with companies can work and what excellent results it can result in. You can watch video from blok 3 here.

The last block in was a panel discussion with experts from practice on "Best practices in SW development". Barbora Bühnová took on the role of moderator and invited Pavla Rychlého from FI MU and Lexical Computing, Jakuba Jeřábka from Monet +, Daniela Doktora from GoodData, Tomáše Svobodu from Safetica a Vojtěcha Filipa from Tescan to the panel discussion. The questions concerned the topics of key activities in software development with an impact on the quality of the result, the sustainability of the code, how difficult it is for someone to take over the code. Interesting terms that were mentioned in this block were simplicity rules, continuous integration, automation, testing, code sharing, mobile applications, development economics, human centered design, user involvement, request prioritization, bug fixing. The problem of how to work with the fact that it is often not possible to implement everything, or the need to choose where to start, was addressed, and the importance of error monitoring was emphasized. In addition to communication and customer needs, the role of automation in supporting the long-term sustainability and sustainability of the project, quality control during development, its testability and risk management was certainly an interesting topic. You can watch video from blok 4 here.
This time, the companies were able to use their presentation on the online booths of the Discord platform in two time slots. In addition to the companies, the internship coordinator Alena Hooperová was also available, and the National Office for Cyber and Information Security also had representatives here. Students had the opportunity to find out what specific final theses in cooperation with FI companies offer, whether they could complete internships or part-time internships.
Finally, it was possible to visit Kentico Software's online workshops on Technical Writing - a little-known, even more interesting IT profession, and Kyndryl on To Each Their Own - How to Create a CV Tailored for Each Application. Both workshops received very positive feedback.
In conclusion, we would like to present a few feedbacks that are more than positive:
""I would like to thank you for organizing the event. It was amazing, that's exactly what I was wishing for from Masaryk University, and it gave me a lot for the future, it met my expectations"
"It is valuable to find out how students got to work with companies, to the positions where they are, to the projects they work on. Many addressed this aspect, which is great."
"Overall, the event was great, I learned a lot of new information."

We are also very happy about the response from the speakers on their channels:
Tomáš Szaszi (LinkedIn)
Thank you for inviting I really enjoyed speaking to students along with the other four industry leaders. Just to remember – getting successful (commercially viable) innovation is a difficult but rewarding job. Before anything else, find a problem worth solving. Having a great idea is just the beginning of the whole journey…
---
Association of Industrial Partners at the Faculty of Informatics MU – 15 years of support of joint cooperation of companies, student researchers and researchers to reach common goals.
Barbora Bühnová, Dorota Jůvová, Renata Vévodová and Eva Matějková, April 12, 2021
The Association of Industrial Partners (AIP FI MU)
has been operating at the Faculty of Informatics of Masaryk University for 15 years and since its inception it has grown to the current number of 27 actively cooperating companies. AIP is an active platform, thanks to which a number of activities has taken place. The main goal has been to involve academics and students of all levels of study in cooperation with industry. Thus, students can further develop and evaluate their theoretical knowledge in the corporate environment, either in the form of a final thesis, internship or involvement in projects within the cooperation of the company with faculty research laboratories. All partners at the level of strategic partnership also participate in the joint supervision of doctoral students and related joint research.
In terms of cooperation, year 2020 was another successful year.
As part of joint activities,
97 final theses have been successfully finished in cooperation with AIP companies last year
. The activities also included a competition for the best bachelor's/master's thesis in the field of IT security and applied cryptography, with the participation of Red Hat Czech, Invasys, and Y Soft. Although the topic of security is common in multiple cooperating companies, it is only one of many. For example, the strategic partner Konica Minolta, cooperates with students of all levels and study programs on topics applicable in the field of artificial intelligence, machine learning, deep learning, and semantic technologies. The strategic partner Red Hat Czech, covers a wide range of topics and is the leading partner in a number of supervised theses. For many companies, the final theses also contribute to research and innovation in the company. One example is the Flowmon Networks company, where bachelor theses often grow into internships focusing directly on the innovative solutions within the company. In general, the theses developed in cooperation are highly regarded in terms of quality and some of them have been
awarded the Dean's Award
. Last year this was the case for theses completed in cooperation with companies Konica Minolta a Wereldo.com.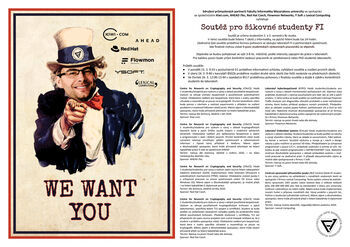 Another successful activity is the
Competition for talented students at FI
, which is primarily intended for students of the 2nd and 3rd semesters of bachelor studies, and is held once a year. The format of the competition is limited to 24 hours, when students solve tasks in the assignments jointly designed by FI laboratories together with companies from AIP. The reward for successful sudents is the opportunity to obtain a research position in one of the participating laboratories with a company scholarship, and contribute to the collaboration of the two. In 2020, Red Hat Czech, Lexical Computing, Monet+, Y Soft, and Flowmon Networks took part in the competition.
Projects in applied research have started in recent years and continued in 2020. Red Hat Czech. continued in works in TAČR AUFOVER project, together with Honeywell. Konica Minolta participating in the research of Hien Thi Ha, our PhD student, in the field of text and data mining techniques for scanned documents and delivery e.g. in form of reference datasets. TAČR – AHISTO is also an interesting project (historical sources available) in cooperation with Lexical Computing company. We should definitely mention Monet+ and their "Secure Multi-Party Protocols, Cryptographic smartcards", or Y Soft in TAČR 3D printing project. Flowmon Networks has been involved in the projects of the National Center for Cyber Security and a TAČR project focusing on operation monitoring in the public cloud environment. VF cooperates in a TAČR Trend project – "Integrated spectrometric system for free release of radioactive waste into the environment". The project "Optimization of freight transport in reliance to market prices" continues with Wereldo.com
An important element in AIP's activities is
Day with Industrial Partners
which takes place directly at the Faculty of Informatics twice a year. The main goal of the event is to give students the opportunity to get acquainted with the companies cooperating within AIP, to learn more about cooperation, conditions, goals and opportunities to actively benefit from the cooperation. This year for the first time this traditional event unconventionally took place entirely online in a new format. The organizers resorted to this format due to restrictions imposed by the COVID-19 pandemic. This decision was taken after a discussion whether to even organize the event and how to make it happen. The online format, which was eventually agreed on posed a great challenge to the team. The format was however welcomed by the company representatives, who thankfully actively cooperated and supported the event. It turned out to be a great success, which was apparent in the high number of participants and positive feedback.
The COVID-19 restrictions fortunately did not substantially limit the teaching process and the majority of the companies participated in lectures and seminars.
Comapany:
Participation in lectures:
Invasys
PA018, PV079, PV204, PV157
Konica Minolta
PV173, IA161, PA153
Lexical Computing
IA161, PA153
Red Hat Czech
PV080, PB173, PV204, PV181, PV278, PA200
Honeywell
PV260
IBM
PA181, PA200, PV203
InQool
PV247
Monet+
PV256
Y Soft
PV260
Daite
PPB130, PV162
NXP Semiconductors
PV198
Safetica
PV177
Sanezoo
PB130 PV162
Tescan
PB130 PV162
Trusted Network Solutions
PA018
VF
PA174
In 2020, there was an increase in the number of
sponsored PhD positions
by AIP's strategic partners. In this form of joint advisory of doctoral students in cooperation between FI and the companies, 13 doctoral students are now studying. The support defined in this way is the condition for a strategic partnership. However, support is also possible outside the strategic partnership within the lower categories of partnership, as in the case of Monet+ and Safetica.
None of this would be possible without the intensive
interaction of cooperating companies with FI research teams and laboratories
. In this respect, the
Center for Research on Cryptography and Security (CRoCS)
,
Laboratory of Software Architectures and Information Systems (Lasaris)
,
Center for Biomedical Image Analysis (CBIA)
,
Design and Architecture of Digital Systems Laboratory (EmLab)
,
Natural Language Processing Centre (NLP)
,
Sitola Research Laboratory
, and
Laboratory of Data Intensive Systems and Applications (DISA)
are the most active ones.
Another popular contact with students is the
organization of competitions and advertisements for internships for students, and job positions for graduates
. It is the internships that come to the forefront of the attention of both companies and the faculty within the
new study programs at FI MU
, for which the internships are a mandatory part of the study. In addition, it is a welcome tool for cooperation, where students apply their knowledge in practice and at the same time get acquainted with the corporate environment. Most of the partners offer internships, however the most active partner in this regard is the IBM company, which offers internships to more than tens of students every year.
Research and teaching cooperation also has a popularizing and cultural overlap. The immensely popular
FI Film Festival
, held in online format, was supported financially and with prizes by Kentico Software, and Red Hat Czech. Another event of FI,
the TSD conference
was organized in cooperation with the Lexical Computing company.
We would like to thank all the cooperating companies and participating research laboratories for their active support and cooperation in these difficult times. We wish everyone a successful continuation of the cooperation in the future, and we look forward to emerging activities that you will hopefully appreciate as well.
Therefore, follow the FI information channels so that you do not miss these events!
Cooperation in 2019 – facts and figures
S T R A T E G I C P A R T N E R
Invasys, a. s.
Supported PhD student, seven long-term internships; co-organizer of the competition for the best bachelor and master thesis in the field of IT security and applied cryptography.
Konica Minolta Business Solutions Czech, spol. s. r. o.
Support of student research in Bc, Mgr (BA, MA) and Ph.D. programs on topics close and applicable in the field of artificial intelligence, semantic technologies, machine learning, or data analysis.
Lexical Computing CZ, s. r. o.
Support of five Ph.D. students in the field of joint research. Annual participation in the competition of FI talented students. Partner involvement in the project TAČR - AHISTO.
More detailed information can be found on page cooperation FI - Lexical Computing.
Red Hat Czech, s. r. o.
Successful supervision of bachelor and master theses. In the field of joint research, support of six Ph.D. students; joint research TAČR - AUFOVER.
More detailed information can be found on page cooperation FI - Red Hat.
P A R T N E R
Honeywell, spol. s. r. o.
Cooperation with laboratories which will focus on the establishment of a new IT hub – Enterprise IT. Cooperation on theses.
Detailed information can be found here cooperation FI - Honeywell.
IBM Global Services Delivery Center Czech Republic, s. r. o.
Cooperation within student internships, covering wide spectrum of information technologies and services; events for students and support for the language education center and the SSME study program.
InQool, a. s.
Active involvement in teaching, including arrangement of lectures on development of modern user interfaces. Ongoing internships
Detailed information can be found here cooperation FI - InQool.
Kentico software, s. r. o.
In addition to theses supervision, further cultivation of cooperation within the Kentico Academy – one development team created of students.
Detailed information can be found here cooperation FI - Kentico.
MONET +, a. s.
Offer of internship programs and theses supervision. Support of student activities within the competition of talented students. Cooperation with the CRoCS laboratory at FI.
TECHNISERV, spol. s. r. o.
Involvement of a Ph.D. student in joint analyses and studies. Theses supervision, student internships and involvement in teaching.
Y Soft Corporation, a. s.
Support of several student competitions, participation in preparation of a joint TAČR project. Cooperation with students in development of a smart robot, computer vision and AI.
Detailed information can be found here cooperation FI - Y Soft.
S M E P A R T N E R
Bluesoft, s. r. o.
Support of cooperation in assignment of bachelor's and master's theses. Student internships.
DAITE, s. r. o.
Cooperation on the bachelor's and master's theses level, projects and an active involvement in teaching.
ESET Reaserch Czech Republic, s. r. o.
Research cooperation with a doctoral student and in two master's theses and a submitted project
Flowmon Networks, a. s.
In 2020 three bachelor's and one master's thesis successfully defended, internships, projects and sponsoring.
Detailed information can be found here cooperation FI - Flowmon Networks.
GoodData, s. r. o.
Involvement in theses supervision and interaction with the laboratory that proposes the topics.
LOGEX Solution Center, s. r. o.
Collaboration on several ongoing bachelor's theses with students in the field of data processing.
Detailed information can be found here cooperation FI - Logex.
Nexa Technologies CZ, s. r. o.
Work of two interns was presented at an international company meeting and integrated in a product.
Novanta Česká republika, s. r. o.
Cooperation in bachelor's and master's theses assignment. Involvement in the PA192 Onechip Controllers course.
NXP SEMICONDUCTORS Czech Republic, s. r. o.
Involvement in teaching and competitions. Course preparation including hardware supply; three online lectures.
Safetica Technologies, s. r. o.
Cooperation on the basis of semi-annual to annual internships, sometimes combined with theses.
SANEZOO EUROPE, s. r. o.
Cooperation in the field of bachelor's and master's theses, involvement in teaching and topic contributions.
SEACOMP, s. r. o.
Active cooperation in the form of final theses with currently three active students.
TESCAN Brno, s. r. o.
Cooperation in the field of joint supervision of bachelor's and master's theses.
Detailed information can be found here cooperation FI - TESCAN.
Trusted Network Solutions, a. s.
In addition to cooperation in the form of joint master's theses advising also participation in teaching.
VF, a. s.
Cooperation on the joint advising of master's and bachelor's theses in cooperation with the EmLab laboratory at FI.
Wereldo.com, s. r. o.
Cooperation within AIP, supported by interesting research and a team of students, a new postdoc researcher.