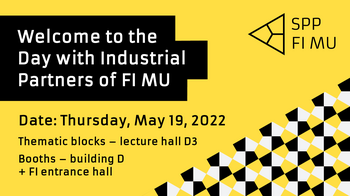 Welcome to the Day with Industrial Partners of the Faculty of Informatics MU
Date: Thursday, May 19, 2022
THEMATIC BLOCKS – lecture hall D3
BOOTHS – building D + FI entrance hall
WORKSHOPS – building A

The Day with Industrial Partners (SPP Day) is an all-day event that offers students and other interested parties at the Faculty of Informatics, Masaryk University (FI MU) the opportunity to get acquainted with how FI MU cooperates with companies in the Association of Industrial Partners (SPP FI MU) and learn more about how to actively participate in connecting the university with the world of practice and how to benefit from cooperation. You can find more about joint activities within the SPP on the page Annual report 2021.
In case of interest in attending workshops, the registration needs to be done via the dedicated workshop link.
Organizational team:
Dorota Jůvová (contact person for the program)
Barbora Bühnová (Vice-Dean for Industrial Relations)

The program is updated.
---
PROGRAM
MORNING BLOCKS - lecture hall D3
9:00 – 9:10
Opening and organization of the day
Presentation of certificates to the finalists of the Competition for talented FI students
9:10 – 10:15
Blok 1 (English) Panel discussion: Innovation and R&D in partner companies - lessons and future directions
Moderated by:
Barbora Bühnová
, Vice-dean for industrial relations, FI MU
10:30 – 11:30
Blok 2 (Czech) Presentation: It does not end with the theses - stories of graduates who have further developed their work in practice
Moderated by:
Václav Matyáš
, Vice-dean for alumni relations and lifelong learning, FI MU
BOOTHS – building D + FI entrance hall
11:30 – 12:30 – morning presentation SPP companies on booths
Strategic partners: InvaSys, Lexical Computing, Red Hat Czech

Partners: Kyndryl, Monet+, Techniserv, Y Soft

SME partners: Daite, Flowmon Networks, Logex, Novanta, Sanezoo, Seacomp, Tescan, Trusted Network Solutions

Other partners: Internships and Lifelong learning at FI MU (Alena Hooperová)

AFTERNOON BLOCKS - lecture hall D3
12:30 – 13:30
Blok 3 (Czech) Discussion with specialists: Artificial intelligence and big data analysis in practice
Moderated by:
Barbora Bühnová
, Vice-dean for industrial relations, FI MU
13:45 – 14:45
Blok 4 (Czech) Panel discussion: What technical knowledge and skills are valued in the company and students / graduates often lack
Moderated by:
Tomáš Pitner
, Academic director of CERIT, Lasaris laboratory, FI MU
BOOTHS – building D + FI entrance hall
14:45 – 15:45 – afternoon presentation SPP companies on booths
Strategic partners: Konica Minolta

Partners: AT&T, Honeywell, InQool, Kentico Software, Oracle

SME partners: Adacta, BiQ Bluesoft, GoodData, Nexa Technologies (Setco), NXP Semiconductors, Safetica

Other partners: NÚKIB

Workshops
13:00 – 15:45 – workshops are organized by companies and it is necessary to register for them. All information about the workshops is available at the individual links.
ONLINE
HYBRID
IN PERSON
Career Centre MU (Czech, 13:00 – 14:00, A218): Jak zvolit ideální pracovní příležitost? information
Lexical Computing (Czech/English, 15:30 – 16:30, A220): Using Linux for text processing informace a registrace
Tescan (Czech/English, 15:00 – 16:30, A320): Docker na CICD, information and registration
Trusted Network Solutions (Czech, 15:15 – 16:00, A319, information about the competition below): Analysis of a successful phishing attack on Czech users
TNS competition
The competition of the new pentesters * for the most convincing phishing (Czech)
Trusted Network Solutions, a.s. Announces a competition for the most convincing phishing. Your task will be to build credible phishing to persuade users to take your intended action, which will simulate intrusion into the organization's internal network. They compete for exciting prizes from the manufacturer Hak5 and the possibility of an internship at TNS.
Competition rules in Czech HERE
---
PRESENTERS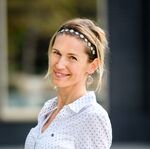 Barbora Bühnová
Vice-dean for industrial relations, FI MU
Bára Bühnová is an associate professor and vice-dean at the Faculty of Informatics of Masaryk University (FI MU), where she researches technologies in the field of software architecture and critical infrastructure. At FI MU, she leads the Association of Industrial Partners and coordinates activities for high school students. In addition to FI MU, she participates in the organization of a number of international conferences and works in the non-profit organization Czechitas.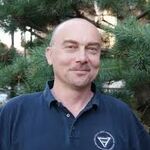 Václav Matyáš
Vice-dean for alumni relations and lifelong learning, CRoCS laboratory, FI MU
At the Faculty of Informatics, Masaryk University, Vasek Matyas is a professor and a vice-dean for alumni relations and lifelong learning. His research interest is focused on applied cryptography, IT security and information privacy. He participated in research and development activities for academic, business as well as state organizations in Czech Republic, United Kingdom, USA, Ireland, Switzerland, Canada; was involved in creation of common criteria and ISO/IEC standards.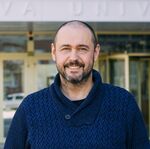 Tomas Pitner
Academic Director of CERIT, Lasaris Laboratory, FI MU
Tomáš Pitner is a co-founder and academic director of the CERIT Center at the Faculty of Informatics. He focuses on applied research and industrial cooperation in the field of critical infrastructures. He is the quarantor of the professional study programs Cybersecurity and Service Management and Cybersecurity. He has been a long supporter of the work with young talents.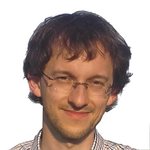 Miloš Jakubíček
CEO, Lexical Computing
As a software engineer in the field of natural language processing (NLP), he focuses on the efficient processing of large text databases (corpora) and the analysis of morphologically rich languages. Since 2008 he has been involved in the development of the Sketch Engine corpus manager. This product is the flagship of the Czech-British company Lexical Computing, which he has been leading as its CEO since 2015. He is also a researcher in the NLP laboratory at the Faculty of Informatics MU, where he studies morphosyntactic analysis and its practical application.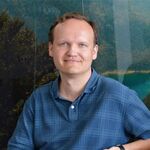 Radek Vokál
Senior Manager, Lead Product Manager for Insights for OpenShift, Red Hat Czech
Radek started working at Red Hat while still studying at Brno University of Technology. With the growth of the team in Brno, he picked up various responsibilities and eventually became engineering manager for a large portion of Red Hat Enterprise Linux development. Eventually he moved to OpenShift engineering and for last couple year, he's leading a small team of Product manager focused on value add service for OpenShift. Radek helped establish university relationship between Red Hat and university across Czech Republic. He's also being organizes conferences and various community events. This year Radek will celebrate 18 years at Red Hat.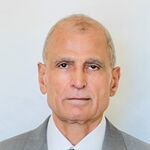 Seyed Hashemi
Lead Member of Technical Staff, AT&T
Seyed Hashemi, is one of the AT&T leaders for research and development. He leads system engineering teams to research, design and develop large scale Operational Systems Support (OSS) solutions for AT&T mobility RAN, Transport and Core networks. He has extensive experiences in software architecture, network architecture and designing large scale automated systems solution. He has been recognized for his work of designing and building 5G OSS software solution to automate the AT&T mobility 5G/LTE network design and rollout. His current focus has been in the area of digital transformation of siloed OSS solutions into a hyper-scale cloud software as a service solution architecture (SaaS), to enable 5G end-to-end Network Slice design and deployment and applying AI in the network design and deployment.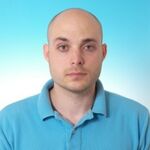 Petr Hujka
Senior director of software development, Oracle-NetSuite
Petr Hujka is senior director in the Infrastructure development group at Oracle NetSuite which is responsible for the core computing services that underpin NetSuite's highly reliable business cloud computing platform. He started his professional career as researcher in the field of automatic object detection in static images almost 20 years ago and he worked in various management roles in software development since then. He loves computers since early age and experienced stone age of home computing.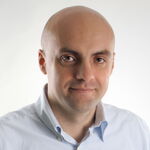 Petr Palas
CEO & Founder, Kentico Software
Petr Palas is CEO and founder of Kentico Software. Kentico software provides solutions for managing content for websites and other channels. Since 2004, Kentico has helped customers in 120 countries tell their stories in the digital world.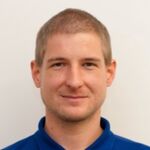 Vít Suchomel
Software developer, Lexical Computing
Vít Suchomel has been working as a developer at Lexical Computing since 2011. His main job is the collection of large text data (up to one hundred billion words) from the Internet in various languages and their subsequent processing, such as spam filtering or genre classification of texts. In his work he uses the knowledge gained by studying the field of Artificial Intelligence and Natural Language Processing. He used his practical experience in his dissertation focusing on tools for obtaining and processing texts from the Internet, which he defended in 2020. In recent years, he has also passed on his experience to several students who work with Lexical Computing under his supervision.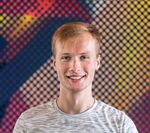 Marek Šanta
R&D @ GOAL SPORT Software, DAITE
Marek graduated from Cybersecurity Management at FI MU. However, his lust for bypassing obstacles is not limited to security measures. As R&D at GOAL SPORT Software, he is responsible for the research of various technologies and their potential of being "exploited" for a given use to their maximum.
Kristína Zákopčanová
Data visualization designer and consultant
Kristína is a designer focusing on visual data communication. In his work, he helps scientists, experts or journalists to communicate information clearly and effectively using graphs, visualizations and maps. She started the visualization as part of her research in the Visitlab laboratory, and today she deals with the topic professionally both in the Climate Facts project and in working in data journalism at iRozhlas.cz.
Václav Novotný
Principal Software Engineer, Y Soft
Václav Novotný is a Principal Software Engineer in the Y Soft R&D department. Heading up RQA (Robotic Quality Assurance) he is in charge of the robotic automation of the embedded systems project. Having graduated from studying Cybernetics at BUT FEKT, Vaclav describes himself as a programming enthusiast who focuses on microservice architecture in development efficiency, performance, and scalability. He designs and implements distributed systems including databases, frontend, UX, machine learning, and computer vision.
Roman Michel
Development Manager, SAP
Roman started programming in the era of the 8-bit Atari. During his career, thanks to working in various teams and roles, he gained extensive experience throughout the entire application lifecycle - from innovation, through development to maintenance. For the last five years, he has been working as Development Manager at SAP, leading people and developing their talents. His team is involved in expanding existing applications and products with Machine Learning and is currently growing to innovate and apply AI in Proactive Maintenance.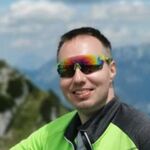 Jirka started his career while studying at Brno University of Technology with his own start-up. Running a start-up, he gained valuable experience. He had created and realized a life cycle of several of his own products – started with design, going through development up to maintenance. He focused mainly on user-experience, the importance of which is often overlooked in a global company environment. He subsequently used the start-up style of work and follows it at the IBM Client Innovation Center in Brno, now Kyndryl, where he has been working as a Data Engineer. He designs information systems and Data Science. He supports innovation and likes to bring new solutions.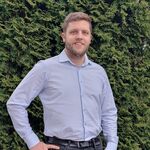 Marián Čamák
Senior Java developer, InQool
Majo studied applied informatics at FI MU. He joined inQool in 2015 as a Java developer and gradually worked his way up to Team Leader. He leads a development team of 10 people, with which he creates large information systems for the Czech public sector. He also plays the role of an Software Analyst in the team. He likes to pass on his knowledge to others and together with the team he comes up with solutions to problems they encounter. He likes innovations and would not like to be stuck in place.
Barbora Florianová
Talent Acquisition Partner/Recruiter, LOGEX
Barbora has almost 5 years of experience in recruiting people, especially in IT recruitment, so she meets students and junior candidates very often. In addition, she enjoys building employer branding, mentoring within the #suHR community and also helping with CV consultation and career advice e.g. for #holkyzmarketing.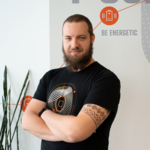 Peter Strieška
Software Engineer, Y Soft Corporation
Petr Strieška is a Y Soft Software Engineer based in the Research and Development department. He is currently devoting his time to developing an Android mobile application for one of Y Soft's products. Petr has a degree in applied informatics from Masaryk University, spent three and a half years working in Quality Assurance, and has vast experience with .NET.
Vojtěch Vágner
State security officer, NÚKIB
Vojtěch Vágner currently performs technical activities under the Government CERT in NÚKIB. Here he addresses many technical challenges in the field of development and automation. In parallel with his job classification, he continues to study at university. He likes to combine skills and abilities acquired from the work and university environment.
---
The online transmission will not be provided.
You agree to use the photographs and recordings for promotional purposes by entering this event.
---