Online Open Day for those interested in studying at the Faculty of Informatics MU (FI MU)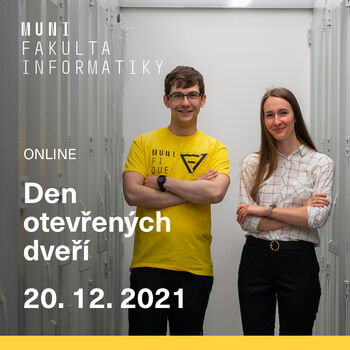 The event took place online.
Record
When? December 20, 2021 from 1 p.m.
IQ testing
In cooperation with Mensa ČR, we offer those interested the opportunity to take the IQ test directly at DOD at a discounted price. The implementation of on-site testing will depend on current anti-epidemic measures. Those interested can register on the Mensa ČR website:
Program (subject to change)
13:00 Opening
13:05 Introductory presentation on study possibilities + Q&A - prof. Jiří Barnat, Vice-Dean for FI MU study programs
13:45 How to apply and guide the admission procedure - presentation of the study department + Q&A
13:55 Life at FI MU and activities for high school students - student presentation + Q&A
14:10 Interview with student Michael Koudela - FI MU vs. FIT BUT and why I chose FI + Q&A
14:20 Kahoot! faculty merch quiz
14:30 Block of presentations of selected scientific laboratories and partners of FI MU

14:30 Graphic Design and Multimedia Studio (AGD + M)

The graphic design and multimedia studio provides education in the field of graphic design and related disciplines. He covers topics such as generative design programming, interactive media application development, animation, video, 3D digital modeling and 3D printing, e-publishing, web design, font creation, game creation and interactive information graphics. In the presentation we will introduce you to this activity, including the results of student work.

14:45 Laboratory of Systems Biology (SYBILA)

We will present the main goals of the laboratory, what we do in the laboratory, what types of work you can expect from us and how you can get involved in the laboratory. We will also mention the connection of the laboratory to teaching and key subjects that are directly related to the laboratory.

15:00 National Office for Cyber and Information Security

The National Office for Cyber and Information Security (NÚKIB) is the central administrative body for cyber and information security in the Czech Republic. During the presentation, you will learn what is hidden under this description and how you can join the defense of cyberspace in the Czech Republic. We will present the possibilities of internships and subsequent employment for students and graduates of the Faculty of Informatics, MU.

15:15 Red Hat

Red Hat has been an industrial partner of the MU Faculty of Informatics for more than 10 years and has been cooperating with students for a long time. In the presentation, you will learn how students can get involved in cooperation with the company during their studies, often from the first year.

15:30 Conclusion
Throughout the transmission, it is possible to ask questions via Sli.do. Our guests will respond to you either live within the Q&A sections or in writing to Sli.do.
We are interested in your opinion! When filled out feedback questionnaire You can participate in a raffle for faculty merch. Thank you!
Other dates of the MU MU Open Days
More information about the study
What programs can be studied here
?
What are the possibilities of practice
?
How to apply
?
What are the options for waiving the entrance exams
?
What are your application possibilities?
?
Offer video presentations, and sending printed materials
"I enjoyed physics and philosophy the most in high school. But a few weeks before I applied, I realized that industries like artificial intelligence or IT security were really changing the world, and that it would be great to be part of that change. "

Filip Široký
graduate Bc. program Informatics, branch Mathematical Informatics, winner of AI Awards 2019
What does FI MU Open Day look like when the world is in order?
Contacts
E-mail: studijni (preferred contact, for specific questions or for sending brochures by post) @fi .muni .cz
Phone: +420 54949 1818
E-mail: propagace (for those interested in excursions) @fi .muni .cz
Phone: +420 54949 1819
Follow Facebook: FI.MUNI.CZ , Instagram: @fi_muni , Twitter: @fi_muni