Online Open Day for those interested in studying at the Faculty of Informatics MU (FI MU)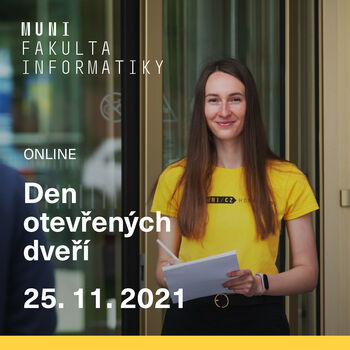 The event took place online. You can watch the recording at the faculty Youtube channel .
When? On Thursday, November 25, 2021
IQ testing
In cooperation with Mensa ČR, we offer those interested the opportunity to take the IQ test directly at DOD at a discounted price. Testing will take place in person at FI MU. Those interested can register on the Mensa ČR website:
Open Day Online Program (subject to change)
13:00 Opening
13:05 Introductory video presentation about study possibilities incl. possibilities how to get without admissions + Q&A
13:45 Student presentation (Zvěřinec, KSI, student events) + Q&A
14:00 Online presentation of research laboratories and industrial partners:

14:00 Laboratory of Human-Computer Interaction (HCILAB)

The Laboratory of Human-Computer Interaction (HCILAB) is dedicated to the research of human-computer user interfaces, especially the research of modern methods of interaction and virtual and augmented reality. Current research projects include, for example, multi-user collaboration and learning opportunities in immersive virtual reality. We also deal with the development of computer games, especially the application of modern computer graphics techniques in games. Visitlab Visualization Laboratory focuses on basic and applied research in the field of complex data visualizations, their visual analysis, computer graphics and their relationship to the virtual environment and graphic design. He is currently working on projects in the areas of molecular, security, geographic and medical visualization, for example.

14:15 Laboratory of Software Architectures and Information Systems (LaSArIS)

The future of all in their own hands. Does that sound nice? Scary? Too unrealistic? Then no! At Lasaris, we conduct research on smart cities, smart buildings and networks, cybersecurity, IoT and many other industries that shape the future of each of us. We deal mainly with critical infrastructures, the non-functioning of which could cause great damage. One way to attack such infrastructure is to attack from within the organization. Come and see what such an attack might look like and find out more about our laboratory!

14:30 Kentico - industrial partner of FI MU

Wanna love your job? Come and meet Kentico Software in Brno, our products and clients. Did you know, for example, that Kentico arose from the bachelor's thesis of our boss and sole owner - Petr Palas? That Kontent by Kentico, our headless CMS solution, originated as a start-up within the company? Or that many of our leaders have grown out of FI MU students, for whom we regularly open Kentico Academy? In the presentation, you will have the opportunity to see behind the doors of our offices, development teams and technologies.

14:45 Laboratory of Electronic Multimedia Applications (LEMMA)

The ability to express oneself in cinematic language is a skill that fits in today's accelerating and clipped world. On the annotated examples of student film production, you can see under the cover of the creative workshop of the LEMMA laboratory and the Film Festivals of the Faculty of Informatics, MU, organized by it.

15:00 Service Systems Laboratory

Innovative solutions such as Smart City, Industry 4, Smart Services, Internet of Things, Big Data Analytics or Digital Service are gradually becoming increasingly important. The service systems laboratory conducts its research into new approaches, models and platforms related to these concepts. We will also explore the practical use of modern technologies to recommend best practices for smart service design. Our team always tries to solve research problems from a multidisciplinary perspective. The goal is always to design the service so that it brings the greatest possible effect to all its customers.

15:15 Laboratory of Digital Systems Design and Architecture (EmLab)

In the EmLab laboratory, not only our teachers and students, but also robots or drones are waiting for you. You will learn how electronics for such devices are designed, programmed and controlled. You will also find out how neutrons and gamma rays are detected in a common environment and in the vicinity of facilities working with nuclear materials, and what EmLab members work with nuclear scientists. The laboratory is equipped with measuring technology and modern technical and software tools for the application of programmable gate arrays (FPGA type circuits), single-chip microprocessors and processors for digital analog signal processing (DSP type circuits). It focuses on the study, development and application of so-called embedded systems (unique single-purpose applications).

15:30 Conclusion
By participating, you agree to the record of the event. We thank all participants and ask for their feedback to questionnaire .
Other dates of the MU MU Open Days
More information about the study
What programs can be studied here ? What are the possibilities of practice ? How to apply ? What are the possibilities of admission without entrance exams ? What are your application possibilities? ?
Offer video presentations, and sending printed materials
"I have not found another university in the Czech Republic or Slovakia, where the Faculty of Informatics would offer me such freedom in setting up my studies from the beginning, the opportunity to specialize and enroll in an incredible number of subjects from other faculties."

Magdalena Kejstová
graduate Bc. program Informatics, field of study Computer Graphics and Image Processing
What does FI MU Open Day look like when the world is in order?
Contacts
E-mail: studijni (preferred contact, for specific questions); @fi .muni .czPhone: +420 54949 1818
E-mail: propagace (for those interested in excursions or for sending brochures by post); @fi .muni .czPhone: +420 54949 1819
Follow Facebook: FI.MUNI.CZ , Instagram: @fi_muni , Twitter: @fi_muni