Special Open Day for those interested in studying at the Faculty of Informatics MU (FI MU)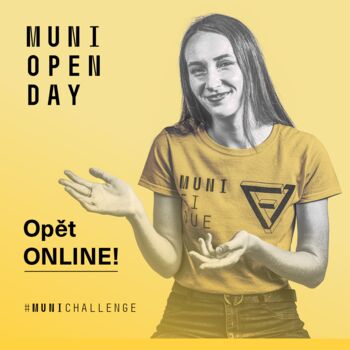 The event took place online in three broadcast times. We offer you a compilation of the most interesting in record on the faculty Youtube channel.

When? 6. 11. 2021
Program
The entire program was developed and presented directly by our students, so you can look forward to their immediate experience of studying and living at FI MU. You will see:
Basic information about FI MU
Everything you were interested in: four blocks of questions and answers
Interviews with teachers and other representatives of FI MU

Petr Švenda: For whom is the Faculty of Informatics MU
Barbora Bühnová: Companies cooperating with the Faculty of Informatics MU
Michael Koudela: Informatics at MU vs. BUT and other universities
Eva Rudolfová: Language Teaching at the Faculty of Informatics, MU

and also a quiz about FI MU and a small bonus at the end!
You can look at the faculty virtually through at any time 3D tours .
Other dates of the MU MU Open Days
More information about the study
What programs can be studied here
?
What are the possibilities of practice
?
How to apply
?
What are the possibilities of admission without entrance exams
?
What are your application possibilities?
?
Offer video presentations, and sending printed materials
"I enjoyed physics and philosophy the most in high school. But a few weeks before I applied, I realized that industries like artificial intelligence or IT security were really changing the world, and that it would be great to be part of that change. "

Filip Široký
graduate Bc. program Informatics, branch Mathematical Informatics, winner of AI Awards 2019
What does FI MU Open Day look like when the world is in order?
Contacts
E-mail: studijni (preferred contact, for specific questions or for sending brochures by post) @fi .muni .cz
Phone: +420 54949 1818
E-mail: propagace (for those interested in excursions) @fi .muni .cz
Phone: +420 54949 1819
You can also follow Facebook: FI.MUNI.CZ , Instagram: @fi_muni , Twitter: @fi_muni