Open day for those interested in studying at the Faculty of Informatics MU (FI MU)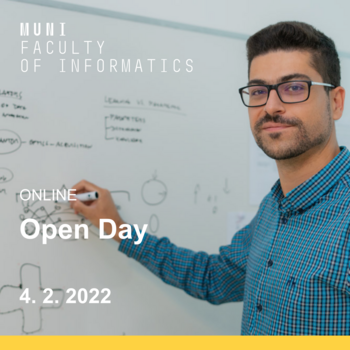 The event is scheduled as a contact for Czech study and online for English study. Follow the current information on this page.
When? 4. 2. 2022
Link to the event will be displayed here later.
Programme of Open Day
9:00–12:00 MENSA testing
13:00–13:50 Introductory presentation on study options focusing on bachelor's programs
13:50–14:10 Questions and Answers
14:15–15:10 Presentation on study opportunities of follow-up master's programmes taught in Czech
14:15–15:45 Excursion to the laboratories and stations of the faculty partners
15:15–16:15 Presentation on study opportunities for those interested in subsequent master's programs taught in English
Programme of Open Day - Online English version starting at 15:15
Faculty Introduction and Overview
Presentation of study programme MSc Computer Systems, Communication, and Security
Presentation of study programme MSc Software Systems and Services Management
Presentation of study programme MSc Visual Informatics
Q&A
Presentation of PhD study programme
Student's perspective on PhD programme?
Presentation of Human Computer Interaction Laboratory
Living in Brno
Q&A
Get in touch with Brno region and the Czech Republic
Offer video presentations and send printed materials
"I have not found another university in the Czech Republic or Slovakia, where the informatics faculty offers me such freedom in setting up my studies from the beginning, the opportunity to specialize, and enrol in an incredible number of courses also from other faculties."

Magdalena Kejstová
graduate Bc. program Informatics, field of study Computer Graphics and Image Processing
What FI MU Open Day looks like when the world is in order
Contacts
E-mail: studijni (preferred contact, for specific questions or for sending brochures by post) @fi .muni .cz
Phone: +420 54949 1818
E-mail: propagace (for those interested in excursions) @fi .muni .cz
Phone: +420 54949 1819
Follow Facebook: FI.MUNI.CZ , Instagram: @fi_muni , Twitter: @fi_muni