MU graduates created an automatic lawyer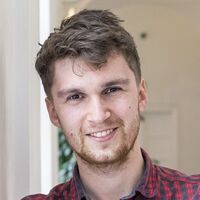 The editor allows any lawyer, even without programming background, to create legal documents in which various parameters can be set.
---
What happens when a lawyer meets an IT guy? When combined in one person, it can lead to a successful and fast-growing company like Legito. A company that provides an online platform for creating customized legal documents.
Its founders include Ondřej Materna, a graduate of law and computer science at Masaryk University. "The technology we are developing is actually a combination of these two disciplines, which are more similar than they may seem at first glance," he says.
"Although these fields have a completely different ways of expression - lawyers speak a strange language for laypersons and computer scientists even stranger, however the core of these disciplines is the same. It is basically a group of commands that have a certain structure and must be interpreted in some way. Though in computer science the interpretation is much easier. It is either number one or zero, while in law it is more complicated, "says Materna, who used the similarities of the systems thanks to IT commands to draw up working contracts.
Document creation robot
Materna worked in law practice for several years and verified that even if individual cases are dealt with, the same content is repeated in a number of documents. This is a good foundation for process automation that technology can provide.
He started to develop this idea and further program individual types of contracts. Gradually he also developed an editor, which allows any lawyer even without knowledge of programming to create legal documents in which various parameters can be set. "In fact, any lawyer can build such a robot with our technology to create legal documents," says the graduate.
This is the basis of Legito, which forms a platform where lawyers and people who need different types of contracts meet. Lawyers can prepare customizable contract templates in the editor, and users can then customize them to suit their current needs. For example, in the purchase contract the user chooses what the purchase involves, what the parameters of the transferred items are, the price and a number of other data. The users can use the service on a one-time basis, or create a user account in which they can generate more contracts and use other services for a fee.
"The lawyer who created the model contract is responsible for its accuracy. However, they are no longer responsible for the resulting user settings. To ensure the correcteness of the documents, one can order the verification of the final version by a lawyer", added Materna, adding that this option will also be a bit cheaper than in a law firm.
Although the platform was originally aimed at small and medium-sized businesses and law firms, Legita's clientele sometimes grows in unexpected directions. "Large companies started contacting us, saying that they liked our technology and would like to get it for their internal use. They do not want to participate in the collection of publicly available contracts, but to automate the creation of their own documents within the company", described the co-founder of the company.
There are also individuals who need a one-time contract. Purchase or donation contracts are widely used and, according to Materna, divorce related documents are also common. Although the first contracts were created by the company's founders themselves, today they no longer deal with this matter. They seek to develop document preparation technology, expand services, and look for new markets. "We are adding features that are not commonly offered, such as document management for specific users, including sending reminders for payment deadlines or other acts that result from created contracts. We have also introduced the possibility of insuring the contract, i.e. if the generated version is checked by a lawyer and insured and the other party breaks the agreement, the insurance company will pay the court fees and services of a lawyer", said Materna.
The company, which was established in 2014, employs about twelve people. Four graduates of Masaryk University were present at its establishment. Juraj Patuš and Michael Mládek studied computer science and Markéta Kabátová economics. "I met Michael during his lecture on softskills at school, Juraj came across my presentation on law and IT and Markéta we found at Google Accelerator," Legita co-founder described the very beginnings of Legita.
Expansion abroad
They started the company in the evenings as a side gig to their jobs or business activities. The product was first attuned in the Czech Republic, where it was launched on a commercial basis two years ago; and then the expansion abroad began.
There is a bit of a catch in this, because the legislation is different in different countries. But the technology the company has allows to provide services virtually anywhere. "Any lawyer from any country can create an automatic contract model in our system. Everything is online, so all one has to do is register, we will verify that the person really exists and approve access to the system. Thanks to the editor, the user can then create a contract that is not yet there, in any language and legislation. We already have contracts in our collection based on about ten legislations", Materna explained the international reach of the company, adding that the company currently wants to expand to Portugal and Spain.
Automated processing of documents in different languages, however can encounter unexpected complications. "People from Israel were also interested in our services, but Hebrew is written from right to left, which is not yet possible in our system. Therefore, we have to make some adjustments", Materna described with a smile.
The company strives to work not only on technological development, but also on the offer of new services. The first investor offers have also appeared, but the startup has so far rejected them. "We are profitable and we have the money for development. We are not against investment, but rather we prefer a strategic partner with whom we would also be a good match on a personal level. We are comfortable at work; we are based in the Brno Impact Hub and we are satisfied there. We have everything available there. When we suddenly need help with texts, design or programming, we just go to the next office", added Materna.