Luna Station*
Overview
Stations luna* are Apple iMac 27" machines with parameters:
CPU: Intel Core i5 @ 3.4 GHz
RAM: 8 GB
Display: 27" Retina 5K (5120x2880)
GPU: Radeon HD 570
Disk: 1 TB SATA HDD + 28 GB NVMe SSD cache (Fusion Drive)
Operating System: macOS 12 Monterey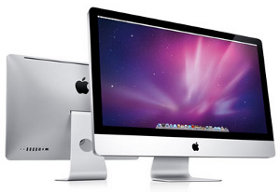 Application
Standard macOS applications are available on the machine, and of course a few pre-installed applications. You can find all of them using the Finder in the "Applications" directory. Users can also install their own applications downloaded from the internet in their home directory. For installation procedures, please refer to the documentation for the specific program. If you think there is a program that other users than you would use, please contact the administrator to install it.
Locking the screen
Click on the Apple icon in the menu bar and select "Lock Screen".
MacPorts
Various Unix applications from the MacPorts system are located at /opt/local/bin. To install others, contact unix @fi.
---
Didn't find what you were looking for? Check out the macOS FAQ page.