Employment prospects of FI graduates
For a long period of time, Masaryk University has been concerned about the quality of education it provides, and for that purpose has been carrying out, among other things, several surveys, such as "Uplatnění absolventů v praxi" [1] and "Ukončení studia na MU, ohlédnutí a perspektiva" [2]. Unabridged versions of those surveys can be found on Masaryk University Consultancy Centre site.
Over 90 % of graduates of FI MU were satisfied with their alma mater. Why is that so?
High salaries
According to a study from 2016 [2], the gross starting salary of FI MU 2016 graduates is over 45 000 Czech crowns.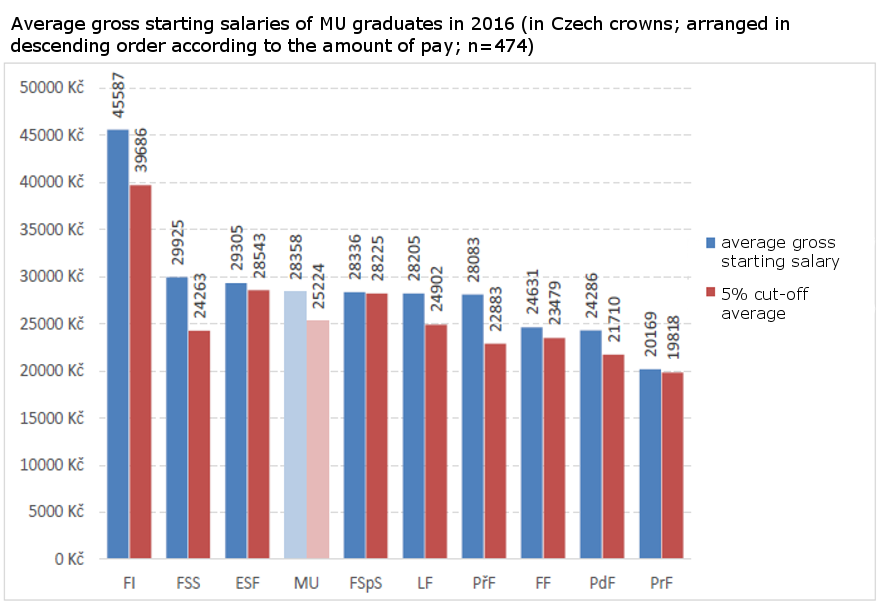 Easily accessible employment
Working graduates – according to their own words, the graduates of the Faculty of Informatics have no problem finding work. Mostly, they already had been working before finishing their studies, and also, they mostly continued in their jobs they had started to work at during their studies (more than a half of all graduates). Another segment of graduates knew, when finishing their studies, where they would work. Only a quarter of FI graduates had to search for work after graduation. Half of those found it within one month. In case they refused the offers, it was mostly due to unsuitable pay or job content.
Out of all Masaryk University graduates, FI graduates get most often a direct offer from their employer; only about half of them look for the job themselves. This is partly because the Faculty of Informatics encourages entrepreneurship and cooperation with the industry (AIP), and there is also a Science Park on the premises.
Almost all graduates find their first job in their field of study; and this job corresponds with their expectations about their future, therefore they are satisfied with their work and find it promising. This is perhaps also partly the reason why they rate the prospects of fresh graduates to find employment in their field highest of all the university faculties. Moreover, absolute majority of the graduates finds their jobs in Brno (more than two thirds) already during their studies among others because of their collaboration with AIP.
According to independent study in Lidové noviny FI has the highest so called Total application index (0.67) of all compared informatics schools. See p. 3 of this PDF.
Sources