Red Hat is a world's leading provider of enterprise open source solutions. At Red Hat, we're building the open hybrid cloud platform for the next generation of computing. We deliver containers, middleware, storage, Kubernetes, and Linux® to our customers, and we back it up with award-winning global customer support and consulting. Red Hat is a rapidly growing company supporting more than 90 % of Fortune 500 companies with 85 offices in 35 countries. Red Hat's unique culture, environment for innovation and open source ethos gives you the opportunity to make an impact on the world. Red Hat was ranked No. 3 on the 2019 Forbes list of World's Best Employers.
Brno, Czech Republic is home to Red Hat's engineering hub in Europe.
Red Hat welcomes creative, passionate, and motivated bachelor's and master's students with an interest in Linux or Kubernetes and knowledge in programming languages such as Python, Java, JavaScript, Bash, C, C++, Go or Ruby. We have an open and collaborative culture that's based on meritocracy—one that lets the best ideas win.
Collaboration of Red Hat & Faculty of Informatics, MU
The cooperation between Masaryk University and Red Hat Czech was established in 2007, just one year after Red Hat Czech was founded.
Red Hat is one of the Strategic industry partners of the Faculty of Informatics.
Red Hat offers students the opportunity to pursue research activities and projects directly in their own on-site open-source lab, which serves as the place to support common activities between Red Hat and the Faculty.
Engage with Red Hat during your studies
Long-term cooperation with Red Hat happens on multiple levels and includes supervising bachelor's and master's theses focused on real projects, sponsoring PhD students and their research projects, and teaching accredited courses led by experienced Red Hat associates.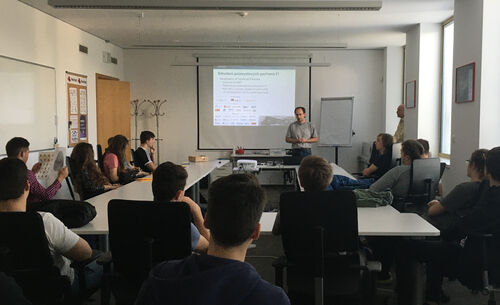 Red Hat Open Source Lab
In 2015, Red Hat established its own open-source lab located in the CERIT Science Park (building S), which serves as a hub for supporting joint projects between Red Hat and the Faculty, advancing research, providing a space for students, researchers and other academic and non-academic members of the open source community to collaborate and bring great research ideas and put them into practical use. Students who decide to cooperate with Red Hat and contribute to research projects from any perspective are welcome to use the lab and its facilities. Open-source lab also serves as a home for most of the courses, lectures, or workshops taught by our Red Hat associates.
Theses
Red Hat has been collaborating on bachelor's and master's theses since the beginning of the collaboration with the Faculty and belongs among the largest contributors of the Industry Partners.
Theses are always conducted in cooperation with technical experts, they are based on the needs of diverse teams within Red Hat, solve real problems, and therefore have a practical impact.
Many of the Red Hat-supervised theses have received the Dean's award or were nominated for various competitions. Red Hat always welcomes and values talented students and therefore actively supports various competitions such as Competition of talented students or thesis contest organized by CRoCS.
Courses
Red Hat has been participating in teaching courses and other educational activities since the very beginning of our relationship with the Faculty. Accredited courses are taught either in Czech or English. Every semester, students can choose from a wide range of courses covering topics from programming to Cloud computing. In addition, students are offered a range of guest lectures, workshops and seminars provided by experienced engineers from Red Hat.
Open Source Contest
Open Source Contest is a competition for students during which we want to show students how easy it is to participate in open source projects. Students can also get feedback on their code and get it included in a real product. By participating in Red Hat Open Source Contest students can win prizes and even get university credits!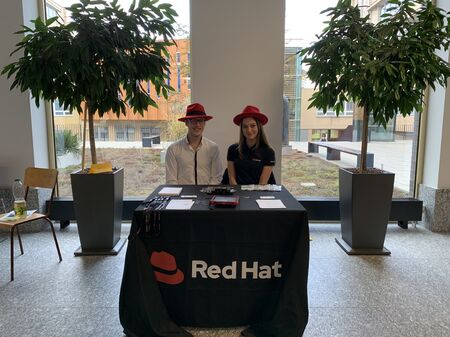 Open Days at the Faculty
During Open Days, students have the opportunity to visit our open-source lab and learn more about the joint cooperation between Red Hat and CRoCS (Center for Research on Cryptography and Security) and the security issues CRoCS laboratory is dealing with. Open Days are an excellent opportunity to learn how to participate in open source projects during studies.
Day with Industry Partners
Twice a year, at the end of each semester, Red Hat gives a talk and is present with their booth at Day with Industrial Partners at Faculty of Informatics, Masaryk University where students can learn more about the possibility of collaborating with Red Hat during studies.
Collaboration on applied research projects
Red Hat works closely together on projects with research laboratories at the Faculty of Informatics, Masaryk University and with many other universities. These research projects are long-term and are based on dissertable topics. We also support PhD students.
Current research projects and plans include:
Cooperation with CRoCS lab - security & applied cryptography
Cooperation with Formela Lab - model checking & verification (Symbiotic tool)
Learn more about ongoing and proposed research projects at research.redhat.com
Workshops and lectures
Red Hat-instructed lectures and workshops (like the Coding Dojo) are not the only ones that take place in the open-source lab. Various communities (of which Red Hatters are also members) are allowed to use the spaces for their events/lectures. One of the examples is the PyLadies community, which has been using our spaces for a few years.
Internships: Why choose Red Hat?
Red Hat offers students in Czech Republic a unique opportunity to gain real-life work experience. Each student is partnered with a Red Hat Associate, and together, they focus on areas in which the student wants to learn and develop. The intern is a part of a regular team, helping develop Red Hat projects and products, such as Red Hat® Enterprise Linux®, Middleware, Ansible® OpenShift®, and much more. The internship starts with a one-year contract with the possibility to extend. We ask most interns to join as permanent part-time or full-time Associates. Our paid internships provide great flexibility, therefore it is not about choosing between work experience at Red Hat and your studies – you can have both.
How to apply?
The hiring process takes place twice a year - in the spring and autumn. Students can register to our talent community portal to keep updated with our latest news.
Graduate's story
Vojta Polášek is a young developer at Red Hat who kick-started his career in the Security Compliance team and graduated with honours at Masaryk University Brno and got the Dean's award for his Bachelor and Diploma theses. His diploma thesis has even been nominated by his faculty to the prestigious Czech and Slovak IT SPY competition. But what makes his story different from others? Vojta was born visually impaired.
Read an inspiring story here.
Meet us outside of the Faculty
During the year, you have many opportunities to meet us, get to know us, learn about current research opportunities, and more. Follow our website and be informed about upcoming events. Subscribe to our magazine, RHRQ, and read about our research results and ongoing projects.
Red Hat Open House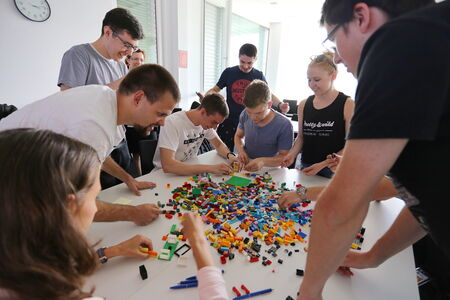 Open House is an annual event, when Red Hat opens its doors to the public to show off everything that is being done under the hood. Attendees have an opportunity to participate in presentations, test their skills in interactive competitions, and meet with team representatives. In 2020, due to a coronavirus outbreak, we changed the physical event to a virtual Open House and experienced this all online via our devices. Check out the Open House website for more information.
DevConf CZ
DevConf CZ is the annual, free, Red Hat sponsored community conference. It's a three-day event for developers, admins, DevOps engineers, testers, documentation writers, students, contributors to open source technologies or simply other enthusiasts interested in the latest open source trends and technologies. The conference includes topics on Linux, Middleware, Virtualization, Storage, Cloud, Kubernetes, and Mobile. DevConf CZ belongs among the largest open source events in Central Europe and is held in Brno. Follow the oficial website for the updates.
Who to contact?
For Career Opportunities:
Sára Adamcová
Talent Acquisition Specialist
For General Questions:
brno-research@redhat .com