Hello. We Are Kentico Software
Who we are
We are a slightly different software company. In the past 20 years, give or take, we have grown to be a global business run from Brno, with over 190 employees and four offices on three continents. Yet, when you walk into our headquarters in Nové Sady, Brno, or in the Spaces building in Prague, you can instantly feel the easygoing atmosphere. We are no cold corporate. Let us convince you.
How we operate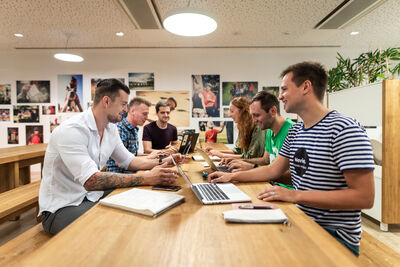 Through a giant fish tank, you can watch our colleagues discussing something passionately while enjoying their cups of coffee on sofas in a room that could well be your living room. The hearty smell of team breakfast hits you as you walk past the fully-equipped kitchen and diner. Watch out! You might as well trip over a dog in the corridor; we have plenty of furry friends enjoying the company of their people in here. You can even bump into a child here and there.
Open-plan offices are not what we do. Each team of a maximum of 12 members is assigned their office. They decorate it as they please to feel comfortable and enjoy working together in their little haven. Because working together is something that we live and breathe—in each team as well as across the company. Every voice is heard, and every idea counts.
If you want to peek behind the curtain and see how life is going in Kentico, you can find details on our blog. Or you can watch a video on our YouTube channel .
How it all started
The company was founded in 2004 and is based on the bachelor's thesis of Petr Palas, to this day, one of Kentico's owners. If you are interested in how he himself remembers his studies at the Faculty of Informatics, Masaryk University, you can find the answers in an interview .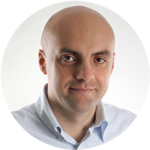 "What I really gained from my studies is a full picture of various areas in IT. The environment of the Faculty and the people you meet and who inspire you are equally important. It was the Faculty environment where I gradually came to the decision to focus on content management systems, as well as to establish my own software company later on. What's more, since this school attracts the most talented IT specialists from the Czech and Slovak Republics, I have always kept in touch—we currently run our Kentico Academy at the Faculty of Informatics. There, we give students the opportunity to build on their knowledge and gain practical experience of developing a real product."
Petr Palas, the founder of Kentico Software
What We Work On
We create software that helps thousands of customers do business online. We develop a digital experience platform for online content management using modern Microsoft technologies. Xperience by Kentico is a complex DXP solution—i.e., a platform for creating websites, content management, digital marketing, and e-commerce. It brings to life a wide range of online ventures, from an NGO website to a complex e-shop. We have modernized the successful product entirely by rewriting it using the most up-to-date MS technologies. Our aim is to engage developers who really enjoy working on our product. We have also introduced a new SaaS solution. In short, our developers get to experience technologies and best practices elsewhere not even dreamt of.

Why We Believe in Cooperation with the Faculty of Informatics MU
Kentico is a brainchild of a former FI MU student, Petr Palas. His was just one of the many brilliant ideas emerging from this Faculty. Future experts flourish and grow in academia. We at Kentico are convinced that young talents and their projects must already be supported during their studies. That's the reason why we have been cooperating with the Faculty since 2011—first as an SME Partner, then on a Partner level since 2014. Furthermore, our Zbyšek Němec is an external member of the Faculty of Informatics Doctoral Board. There is a whole list of FI MU activities in which Kentico participates.
Kentico Academy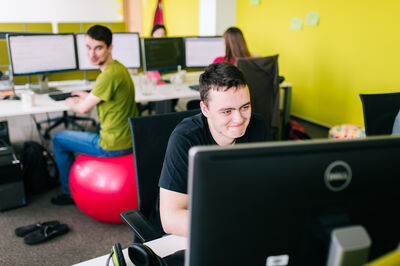 Kentico Academy has definitely been one of the most successful projects. Students who signed up for it got the chance to try out real-life IT work in our company. They also had access to our own offices at the Faculty. Twice a week, Kentico's experienced developers spent time with them and helped them develop the practical skills needed to take part in real projects. And when we saw eye to eye with a student? They were offered a job in the company. As of today, there are numerous Kentico Academy graduates working with Kentico.
To find out more, you can read the interviews with Juraj Bielik , a Kentico Academy graduate, and Petr Svirák , a mentor therein.

Have we caught your attention? Follow us on our website and Facebook, Instagram a LinkedIn to make sure you won't miss this opportunity in the future.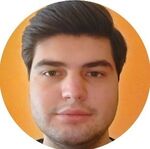 "A mandatory internship is part of my major (PVA). The concept of Kentico Academy intrigued me. You are not expected to know everything already; you learn it in the Academy. I gained real-world development experience in addition to insight into development processes and different departments in the company. I learned about new technologies and improved the ones I'd already known. I ended up writing my bachelor's thesis at Kentico as well."
Michal Adler, Developer, Kentico Academy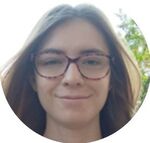 "Within Kentico Academy, I get to participate in company meetings to see what others are working on and where the company stands. Such transparent culture is inspiring. I take away new knowledge and experience every time I leave the office. At Kentico, with the help of my experienced colleagues, I apply the theory from my studies in practice every day. And the coffee here is definitely better than in the school cafeteria."
Nela Achillesová, Developer, Kentico Academy
SPP Days - Days with Associate Industrial Partners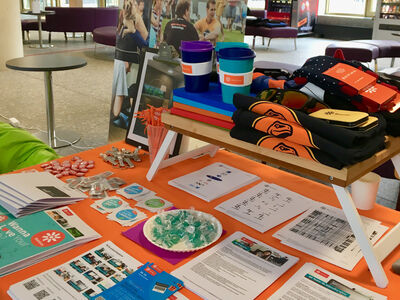 You can regularly see us at the FI MU Days with Associate Industrial Partners. At the stand, we can chat about your interests. Or you can attend our workshop, e.g. in the field of security, technical writing, or extreme pair programming (Coding Dojo). Just take your pick.
Teaching at the Faculty of Informatics
You can occasionally meet Kentico's experienced developers in FI MU lecture theatres where they are happy to share their extensive expertise with you.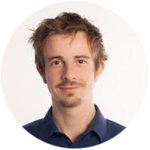 "What I gained from studying at FI MU? Easy—new knowledge and numerous contacts. When I started working with Kentico, I also gave lectures on Windows Systems Management at the time. So it was a combination of studying, work and teaching. What I enjoyed most was taking a practical issue, researching and analysing it, and trying out new possible solutions for months. I then evaluated and published what the real impact of the tiniest decisions was when it came to the IT system design and operation."
Libor Dušek, IT Manager
Supervision of Bachelor's and master's Theses
A fair number of final theses was written with us. We don't list the topics for students though. If you have a good idea and feel that Kentico is the place to bring it to life in the form of a thesis, let us know. We can talk about an individual assignment that would be beneficial for both you and us.
"I sought experience in the field—not just for the sake of ticking the checkbox; I really wanted to grow. At the same time, I wanted to see my colleagues in person. The offices and the opportunity to write my thesis were some of the reasons I chose Kentico. And I don't regret it. The culture in Kentico is great. On the one hand the opportunity to learn and grow, on the other hand a relaxed approach, no unnecessary red tape. Plus the feeling that everyone is pulling together, never crimping one another."
Matěj Groman, Security Engineer
Researcher's Night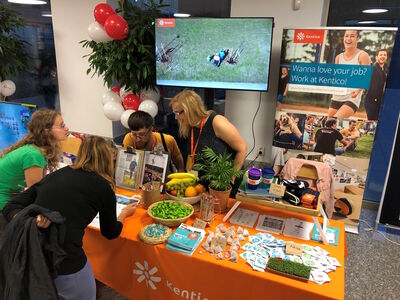 In 2019, we took part in the Researchers' Night at the Faculty of Informatics for the first time. We have a lot to say about the theme of Planet Friendly. We have been planting trees for every bug a customer finds in our product for years now. And that's not nearly all we do. For information on Kentico's environment-centred values and activities, check our blog or the video we've made for you.
FI MU Film Festival
Our colleague and the FI MU student, Matúš Kropuch, is another person you could have met at our stand during the Researchers' Night. He helps organize the FI MU Film Festival which Kentico regularly sponsors.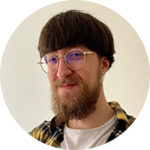 "Studying at FI MU has brought about a number of new opportunities and contacts. I have the chance to give lectures as well as attend them. And I help organize the FI MU Film Festival. I found the job with Kentico during the SPP Day, and it really is an outstanding experience. The work has never stood in the way of my studies, quite the opposite. I have learnt a lot. What's more, I get to consult the experts from Kentico about my thesis."
Matúš Kropuch, QA Engineer
Whom You Can Meet in Kentico
It's as easy as one-two-three. Kentico people stand out as they really enjoy their work. Why? Because they get helping hands from all sides and feel that what they do makes a difference. We don't undermine one another. We help each other grow. We expect each other to look for new solutions and always keep improving. We are on the same page and together manage to overcome even the most unexpected challenges .

In Kentico, you'll bump into many graduates and students of Brno's Faculty of Informatics. What benefits of studying at FI MU do they see now in their real-life work environment?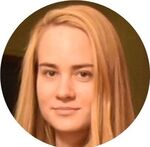 "Having a mentor, an experienced senior developer, to look after you and help you develop for several months was invaluable. I continue enjoying my job at Kentico and find the technologies I work with interesting. Though junior, I'm not just a tool mindlessly pounding code—I get to influence what the final solution will look like."
Hana Pospíšilová, Developer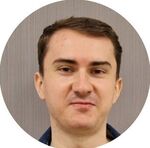 "I wanted to start working, and an internship is compulsory in my study program anyway. Kentico Academy offers exciting technologies. I can use the private office at uni; it's much quieter than the common areas. In addition to work, I met interesting people and had an opportunity to participate in out-of-work activities such as helping out at the ZOO. As well as earning extra money and creating valuable contacts, I appreciate the overlap of theory from school and practice from work—I can apply what I learn immediately."
Balazy, Developer, Kentico Academy
Are You Interested?
Would this gang be just right for you? Wanna Love Your Job?
Follow us on our career website and Facebook, Instagram a LinkedIn, you might come across a job opening or a charitable activity that will suit you perfectly.
You can contact us directly:
jobs @kentico .com
We will get back to every one of you.