The Flowmon solution creates a secure and transparent digital environment where people rule the network regardless of its complexity and nature. Using machine learning, heuristics and advanced analytics, it enables IT professionals to improve performance and reduce risk across on-premise, datacenter and cloud environments.
The solution serves as a shared platform where network and security teams speak the same language, enabling them to work as one for faster mean-time-to-resolve and optimal resource allocation. By delivering highly streamlined deployment to any network type, market-leading support and in-product guidance, the solution provides the fastest time-to-value in the industry.
In a world where technology exists for the benefit of people, secure and healthy digital environments are essential. That's why Flowmon Networks develops an actionable network intelligence solution that enables businesses to ensure their services are running well and securely, and their workforce is productive.
Cooperation with Masaryk University
Flowmon Networks is a spin-off from Masaryk University and Brno University of Technology established in 2007. Headquarters is in Brno with around 100 employees. Flowmon Networks is an industry partner of the Faculty of Informatics since 2015 at the SME partner level.
Research & Development
Flowmon Networks is very active in research and development to innovate its product portfolio. Masaryk University is an essential R&D partner to make this innovation happen. R&D projects represent an opportunity for bachelor's, master or doctoral thesis and first working experience for students.
Selected joint projects:
National centre of competence in cybersecurity (TN01000077)
Smart sensors for measurement and analysis of cloud environments (TH04010072)
Research and development of advanced analytics tools for security and performance analysis of network infrastructure, applications and services (TH02010185)
Technology for processing and analysis of network data in big data concept (TA04010062)
Opportunities for Students
Flowmon Networks has a program of student engagement through bachelor thesis followed by an interim project that can be extended to a part time job with diploma thesis related to the daily work in the company. After graduation there is the option to continue in a full time position. This was a journey of 7 students that work in different teams of Flowmon Networks. When looking for a bachelor or diploma thesis search for topics marked with the "Flowmon" or "CSIRT-MU" keyword.
Main knowledge and experience we look for at Flowmon Networks is computer networks (routing, switching, TCP/IP protocol stack, packet analysis), network security, Linux based OS and their administration, software development techniques and best practices with focus on C, C++, PHP, Javascript, Python.
During the years many students (now current or former Flowmon employees) contributed to the Flowmon solution by their work.
Selected bachelor and master thesis:
Flowmon's Chief Technology Officer Pavel Minarik is a FI MUNI graduate from doctoral study program from 2013 with thesis Building a System for Network Security Monitoring.
References
"Flowmon helped me to gain a lot of valuable practical experience during my studies thanks to my bachelor's thesis, three-month internship and part time job during my Master's degree. It's been a few years since my graduation and I'm still happy here."

Ondřej Kozák
Developer & Graduate
"I was looking for a topic for my bachelor's thesis and I found out about Flowmon. Together we came up with an interesting topic and I am glad I was offered to start work at Flowmon and integrate my work into their product."

Lukáš Gazdík
Experimental Developer & Student
"I am very pleased to have the opportunity to enter Flowmon right after school and use in practice the knowledge I learned during my studies."

Martin Štofko
Linux Network Administrator & Graduate
"We like cooperation with students. They often come up with interesting ideas, which they can realize themselves as part of their bachelor's or master's thesis and subsequent internship with us."

Daniela Balašová
HR Generalist
How to join us?
If you are interested in working with Flowmon Networks we will be happy to hear from you.
The cooperation begins with the selection and writing of your thesis (bachelor's or master's), which can be followed by an internship where you will be able to implement your work directly into practice. If you are successful, we will be happy to offer you part-time cooperation with us.
What we expect from you?
Communicativeness
The desire to learn new things
Team spirit
The ability to work individually after acquaintance with the Flowmon platform
Who to contact?
Pavel Čeleda
Head of Cybersecurity Laboratory
| | |
| --- | --- |
| E-mail: | celeda@fi .muni .cz |
| Phone: | +420 549 49 4726 |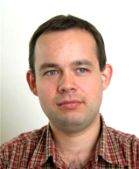 Daniela Balašová
HR Generalist at Flowmon Networks
| | |
| --- | --- |
| E-mail: | daniela.balasova @flowmon .com |
| Phone: | +420 603 427 001 |
Pavel Minařík
CTO at Flowmon Networks
| | |
| --- | --- |
| E-mail: | pavel.minarik @flowmon .com |
| Phone: | +420 733 713 703 |