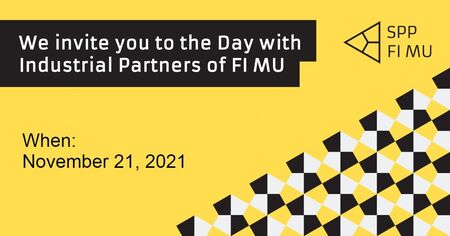 Invitation to the FI MU Day with Industrial Partners on Thursday 11. 11. 2021
The Association of Industrial Partners of the Faculty of Informatics, MU cordially invites you to a Day with the industrial partners of FI MU.
This is an all-day event that offers students information about what is happening at the Faculty of Informatics of Masaryk University (FI MU) and the opportunity to learn more about the way in which FI MU cooperates with companies in SPP (Association of FI MU Industrial Partners), and how to participate in the cooperation.
Participation is free and the event will take place in person  in compliance with the currently valid measures, in the D3 auditorium and also at the partner booths. The booths will be located on the ground floor in building D and at the same time in the entrance foyer.

Registration will start on October 21, 2021. Watch the website.
We believe that the program and format of the Day with FI industrial partners will be an interesting and beneficial experience for you.
Web address

Attachments
Original bulletin
in the Information system.