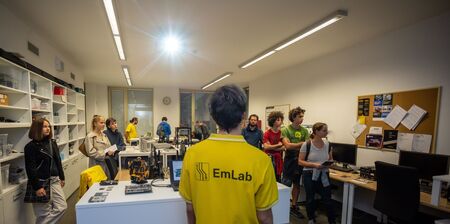 Researchers' Night at FI attracted fans of Minecraft, 3D sculpting and cybersecurity
The Faculty of Informatics (FI MU) and the Institute of Computer Science (ICS) of Masaryk University have traditionally joined forces to create the programme of the Researchers' Night, whose central theme this year was MYSTERY. Every year, the event brings the world of science and research closer to the public and hundreds of visitors once again had the opportunity to peek behind the doors of our laboratories.
"Our aim was to show the diversity of topics we work with at the Faculty – for instance visual computing, which showed the possibilities of 3D sculpting and live drawing. Another rewarding topic is the Brno in Minecraft project created by our students, or excerpts from the student production of the Film Festival of the FI MU, which we organise every year", said Stanislav Podroužek, Head of the Office for External Relations and Partnerships at FI MU.
In the Centre for Biomedical Image Analysis we showed what happens to a digital image and its pixels in a computer. Other laboratories offered insights into the secrets of visualizations and how they help us understand complex patterns hidden in data, work with text models or the possibilities of human-computer interaction. Visitors were traditionally greeted by social robot Karel Pepper with his range of insightful observations and reactions.
Visitors of all ages could test their knowledge of informatics in a quiz by Kyndryl, one of the industrial partners of FI MU. The programme by the ICS focused on cyber threats with an emphasis on safe behaviour in the online and offline world. It included an escape game that tested the participants' attention and their work with information. 
Thank you to everyone who found their way to us!
You will have another opportunity to visit the Faculty of Informatics of MU on November 2, when the first of our Open Days will take place for those interested in the possibilities of undergraduate studies!
We look forward to seeing you there!
Attachments
Original bulletin
in the Information system.