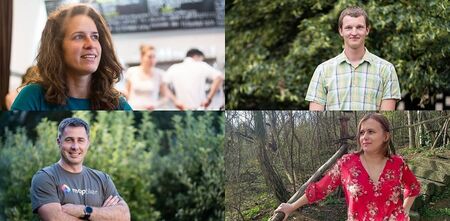 We are proud of all of the more than 5000 FI MU alumni. Meet their extraordinary stories
Because we firmly believe that alumni and their educational and career paths are the best things a college can boast, we established the Alumni Success Stories web gallery in 2017. This currently showcases 40 alumni stories of where you can go with a degree from MU's Faculty of Informatics. Anyway, you can deduce from the following list that it doesn't end with a diploma. Rather, it is the very beginning. The diversity of employment opportunities for FI graduates suggests that courage, curiosity, and a willingness to invent unexplored paths are also important. Judge for yourself:
Tomáš Baránek, 1996 alumnus, was the founder of Jan Melvil Publishing, one of the most important publishers of personal development literature on the Czech market.
Petr Palas, 2001 alumnus, founder of Kentico, which develops a globally successful content management system for websites.
David Pavlík, a 2003 alumnus, gained experience from positions at Netflix, Amazon, and SpaceX during 12 years in the USA.
Jakub Nešetřil, a 2005 alumnus, a successful computer scientist, and businessman who decided not to spare on the needy places and founded the charity project Česko.Digital.
David Březina, a 2005 alumnus, a successful graphic designer, and typographer, is one of the few in the Czech Republic who makes a living creating fonts.
Petr Přidal, a 2007 alumnus, founded a company that supplies mapping materials and applications all over the world.
Jan Řezáč, a 2010 alumnus, successful web designer, author of the valued guide to web design The Razor Sharp Web.
Andrej Pančík, a 2010 alumnus, created the globally successful fundraising platforms Reprezent and Prizeo, which he sold even better.
Ondřej Materna, a 2013 alumnus, founder of Legito company, provides an online platform for creating bespoke legal documents.
Jakub Jurových, a 2014 alumnus, worked as the CTO of Operam, a startup that works to promote films from Hollywood studios.
Monika Čechová (Michalovová), 2013 alumna, uses computer science skills in biological research.
Dita Přikrylová, 2016 alumna, founded the non-profit Czechitas, which has become a pioneering organization in the Czech Republic in the field of IT education for women.
Karel Kubíček, a 2017 alumnus, at the famous Swiss technical university ETH, deals with automating the control of regulations concerning the handling of personal data.
Jiří Matela, 2017 alumnus, co-founder of Comprimato, a company dedicated to developing software to facilitate professional video production.
Kristína Zákopčanová, 2018 alumna, and Martin Ukrop, 2018 alumnus, are involved in the Climate Change Facts project, where they use their computer science skills to fight climate change.
Vojtěch Polášek, 2019 alumnus, a blind software programmer who graduated with honors, succeeded in the Czechoslovak IT SPY competition and is now developing a career at Red Hat.

And that's not all! We cordially invite you to take a look at the gallery at fi.muni.cz/alumni/gallery/.
If you are interested in our stories and thought that you or your classmates are missing from the list, please contact us: propagace@fi.muni.cz
Web address

Attachments