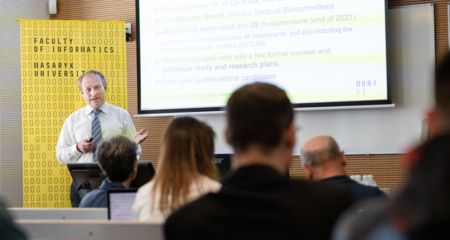 Independent evaluators of the scientific research quality of FI MU personally visited the faculty
In 2022, Masaryk University is organizing an internal evaluation of the scientific research quality of its units, faculties, and institutes. This is a follow-up to the previous national assessment of research organizations in 2020 known as M17+.
In order to ensure the greatest objectivity and impartiality of its evaluation, the Faculty of Informatics of MU has chosen the evaluation route through Informatics Europe, a highly recognized international non-profit professional organization. This Swiss-based organization has arranged and managed the entire evaluation process from the selection of evaluators to the evaluation visit, which was successfully carried out at FI MU on 6-7 September 2022.

Update: Evaluation Report >>
Attachments