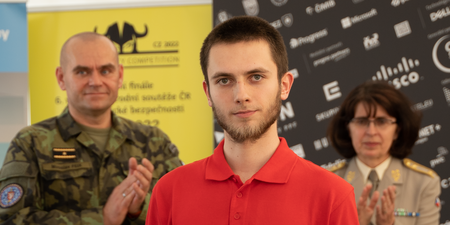 The best Czech ethical hacker is Peter Melniček from FI MU
The sixth year of the Czech national student competition in cyber security (Cyber Competition - CZ only) has its winners. Peter Melniček, a student of the bachelor's programme in Cybersecurity at the Faculty of Informatics of MU (FI MU), won the category of 20+ year olds. 
The final of the competition took place on 19 May 2022 in Pilsen. The best 42 students from primary, secondary and higher education institutions from all over the Czech Republic took part in the competition, divided in three age categories. In the category of students aged 15 - 20, Patrik Vácal from the University of West Bohemia in Pilsen won, and in the junior category of students under 15, Vojtěch Čepička from the Říčany Gymnasium won. The competitors made it to the finals by successfully completing two online elimination rounds, which were attended by almost 5,500 students. Peter Melniček won his category with 3,120 points. FI MU was also fortunate last year when our student Adam Ivora won (CZ only) in the same category.
The reward for the selected finalists of the Cyber Competition is the opportunity to participate in the Summer School of Cyber Security in Brno, which is co-organized by FI MU every year. The finalists can also apply for a waiver of the entrance exams to FI MU.
The course of the national final was also followed by a live broadcast of the final studio, which also offered a number of interviews with experts in cybersecurity and ICT. A recording (CZ only) of this broadcast is available, including an interview with Jan Vykopal from the FI MU Cybersecurity Laboratory about Masaryk University's role in organising the competition. We also had a stand at the event on behalf of the faculty with information about studying cybersecurity and other FI MU study programmes and subsequent employment opportunities.
Congratulations to all the winners and we wish you another successful journey through the world of cybersecurity!
Press release:
https://kybersoutez.cz/library/NSKB6_TZ_Finale.pdf
(CZ only)
Attachments