How to succeed in business? Make friends and don't tell people everything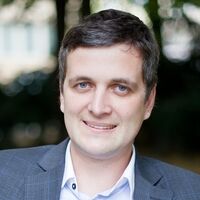 "Web design is an interdisciplinary field. It includes elements of psychology, design, IT, and business."
---
Last September, he published a book and launched a side business in education. In his interview for Muni Extra last year, he spoke openly about his competitors as well as his potential clients. And besides his prowess as a web designer, he is also known for his sharp laughter. Jan Řezáč , a thirty-year-old graduate of the MU Faculty of Informatics, definitely knows where he's heading – both in his career and in his personal life.
As he says, one of his favourite quotes is, "If you want to be successful, you have to do two things. First, you mustn't tell people everything." Then he adds that it's a joke and starts laughing heartily. It doesn't take you long to get the impression that the Brno-based web consultant really knows his way around business and complex interpersonal relationships.
However, his career start was far from the meteoric and splendid affair you might imagine from his confident behaviour. "My girlfriend left me, I realised I had a lot of free time on my hands and my friends were 'making websites'. That's how I started at secondary school," he says. His first project was building websites for the Czech scouts. Those non-profit projects were good practice for his future career. As part of his training, he also redesigned his blog about ten times over the years. "Later on, I just didn't have time to do it anymore because I was working on commercial projects," explains Řezáč.
But how do you get clients such as hospitals, universities, the Chamber of Tax Consultants, the Czech News Agency, the Plzeňský Prazdroj brewery and the South Moravian Innovation Centre? "Through continuous hard work," he answers immediately before explaining: "It's now called personal branding, but basically it means that people know who you are, what you do, and why they should be interested in you. And there are various ways to achieve that. The road to large projects is quite long – or at least mine was. And one tactic that definitely works is to have friends," says Řezáč, revealing one of his strategies.
Test new ideas in practice
Despite this, he has a word of caution on networking: "If you are not being yourself, people will quickly find out," he says. "There is no point in making friends just to win jobs. But if you like people and you have many friends, it can make a lot of things easier. In the end, the jobs might start coming, too." In his opinion, university can also play an important role in this, because you meet like-minded people that you can later connect with.
However, Řezáč definitely does not think that university would have been enough to jump-start his career. As he explains, just attending classes at his faculty would not have taught him everything he needed: "Web design is an interdisciplinary field. There is no single university, faculty or study programme that would encompass all its aspects. It includes elements of psychology, design, IT, and business: you need a bit of everything and all those elements are crucial." Moreover, web design is also a discipline that keeps expanding. "It is quite hard to stay on top in all that is needed for web design, even in the relatively narrow area of web presentation design that I work in," adds Řezáč.
The strategy that he follows is gradually expanding his knowledge, acquiring new information on top of what he already knows and making it work together. He also puts all new tools and ideas to use immediately when working with his clients to see whether they work and takes them to the next level if they do. He finds it useful to be specialised in a relatively narrow field but keep up to date with related disciplines that surround it – in other words, to be a T-shaped professional. This model is especially useful for freelancers and small companies, where employees need to have a broader picture of things, while narrow specialists are more likely to find work in large corporations.
Despite all that is on offer online, Jan Řezáč still prefers books as the best study material.
Your solution has to work
Despite all that is on offer online, Jan Řezáč still prefers books as the best study material. "In my experience, blog posts can be like shots in the dark, unless the author is very organised. A book, on the other hand, has both form and structure, so even the shots in the dark can be structured," he says laughingly. He also likes to use the pieces of information gleaned from reliable sources as arguments in client negotiation.
He gets to know his clients in great detail, from their business to their actual needs. "Only then can I define the problem that will be solved by the website," he describes. Usually, what happens is that a client asks him to redesign his e-shop and gets a relatively detailed vision of what the new e-shop should look like, but without any specific graphic interpretation or copy.
No fighting chance
In his own words, he was not exactly an eager student during his time at the Faculty of Informatics. "We didn't make any demands on one another. They didn't have any requirements that couldn't be met, which gave me space to broaden my knowledge in the areas that I found interesting," says Řezáč, before adding emphatically: "However, if I spent all my time playing World of Warcraft, I would have had no fighting chance".
What he undoubtedly gained from his studies was a new way of thinking and space to gain experience and practice. Therefore, he recommends all students, whether in IT or elsewhere, to work during their studies if they have the time– whether it's university-provided training or anything else, even free or symbolically paid projects. Otherwise, they are in for a rude awakening when they step into the world of business.