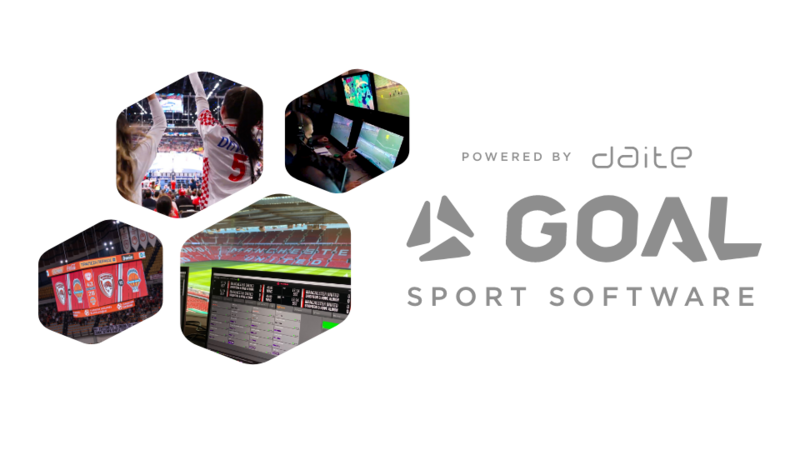 Technology for sport venues. Made by people.
When you see well-developed technology that provides benefits for a lot of users, it's often difficult to imagine the amount of work that goes into it. Technology might sound a bit cold sometimes, but for us it's totally different and exciting.
We rely on the individual contribution of everyone who works for Goal Sport Software. In Goal Sport you find an open-space to contribute your individual experience, the freedom to improve your own skills and to team up with people that can really make difference.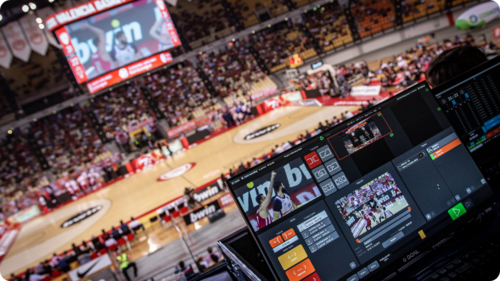 Goal Sport Software venue control system in action at Peace and Friendship Olympic Arena in Athens.
A global software company from Brno
We started as a local provider of hardware for sports arenas. Then we noticed that hardware products alone weren't enough to meet the complexity of needs our clients were seeking. So, in cooperation with Masaryk University we started developing software solutions for sports arenas to run game-day productions that engage and entertain fans of the clubs that play in these venues.
Over time we have grown to become a global supplier 100% focused on software-based technology. We have built a software platform that has to date 18 different applications that range from live production software to video referee technology.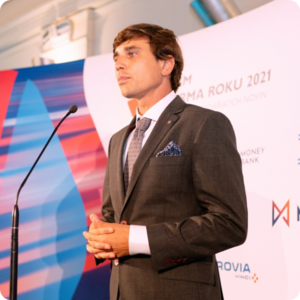 Jan Smrček, CEO of Goal Sport Software- Speaking at the ceremony of prize winner of IBM Firma Roku 2021 South Moravia.
"We started Goal Sport Software 16 years ago. We still feed ourselves with the same passion for innovation and love for working in sports that we had when we started. It's great to watch thousands of fans having a great time at arenas and to realize that our technology is an important part of these memorable moments and that it also contributes to improving fairplay at games."
Jan Smrček, CEO - Goal Sport Software
What is this software about?
Goal Sport Software is a proprietary technology developed by our team to serve stadiums - those so-called sport's temples - all around the globe. You've certainly been to a sports game and checked the time and score on the digital scoreboards or watched a replay on the big screens. Or when the referee stops the game to check a video before deciding on a penalty. Those are the kinds of behind-the-scenes features GS software delivers.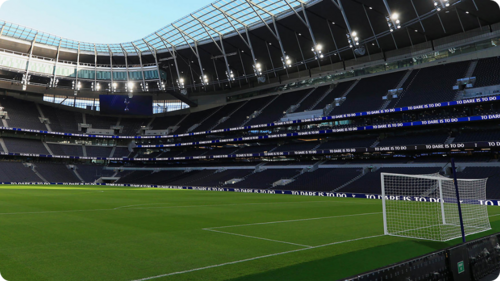 Goal Sport Software controls the perimeter LED screens at Tottenham Hotspurs Stadium.
Goal Sport Technology enables the user to run and control the video which the referee is watching. Live production and video officiating software are the bread and butter solutions of our portfolio and specifically designed for live operation at stadiums. Over 150 stadiums use our solutions. Every year hundreds of thousands of fans at stadiums experience the impact of our solutions. Our software elevates entertainment and brings fairness to sports.
There's way more venue control solutions you can check out right here. Better yet, come have a real demo in one of our offices.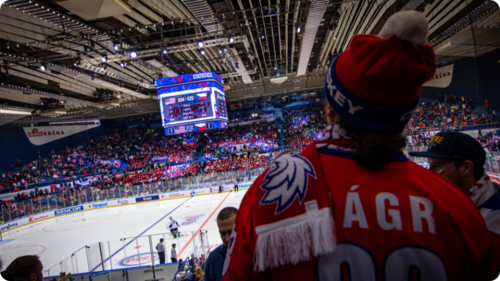 Ostravar Arena IIHF World Junior Hockey relied on full venue control by Goal Sport Software.
Technology for Sport Venues
Ok, so you've got a sense of the kind of software we develop, but there's more to our story. Software is just the starting point of our solutions. We also send our team directly to the stadiums to integrate the technology and prepare the system to be ready for operation. We also customize systems to better serve your needs. In certain cases we manufacture specific parts of the hardware and integrate third party solutions. You can count on our own team of highly experienced technicians for arena installations to speak your language and help put your solutions to work.
Our software in 150+ sports venues around the world
From Brno to the the rest of the globe. GS technology runs production systems all around the globe. We provide, install and support systems that fit indoor arenas of all sizes, even up to 70,000 seat capacity. For multiple sports and multiple audiences, we've got you covered. You can read more about our projects here.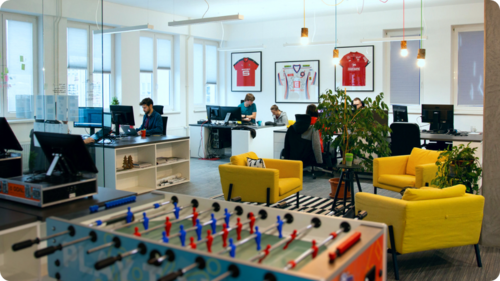 Goal Sport's office at Cernovice, Brno.
Take a look at one of our offices
At Masaryk University
Close to the class rooms and very accessible from the city center you can find GSS's office within MUNI's Informatics faculty. There you will find room to balance your studies and work projects. Need to attend a class in the morning and work on your project afer that? You would be an ideal fit for our MUNI's office. In your office you will have your own fully equipped workstation so you can develop with comfort and efficiency. You can rely on the modern facilities of MUNI. Share a coffee and meals with colleagues in our fully equipped kitchen. Want to give a presentation? Book one of the private meeting rooms and have a focused talk.
On the dark side - Cernovice
Our headquarters is in Brno-Cernovice, 15 mins from the center, where we run our commercial operation in a 1500m2 building dedicated to our company. There you will find the IT offices. It's an open plan office with large and comfortable work spaces and meeting rooms equipped with projectors and widescreen TV's. There's a dedicated technical lab to test our software systems. We encourage taking breaks to switch off for a while and have a cup of high quality espresso and play some foosball. We try to keep ourselves healthy and happy, so we maintain a gym and nano brewery in the same building.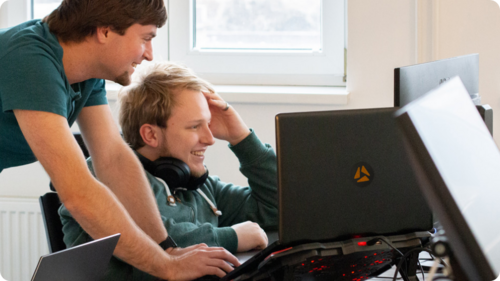 A word from our colleagues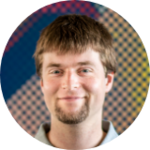 "Finding better solutions, dealing with real problems is part of our routine. I often feel greatly surprised with the contribution and the level of skills our colleagues from MUNI possess."
Pavel Kohoutek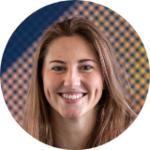 "I was looking for a UX job during my second year in the faculty and it was great. I could arrange with GSS a flexible time shift that I could balance with my studies. The company supports me in leading my own projects. On top of that, it's always good when you work on things that will really have a benefit and impact on many people."
Magdaléna Kejstová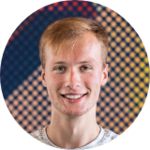 "Goal Sport Software does a great job supporting hacker minds and letting young developers have more sense of responsibility from the beginning. I didn't know much before about broadcasting or various A/V technologies. As an outsider, I had to learn hard and fast, quite often from my own mistakes. However, the out-of-the-box approach brought its fruit in the form of unique solutions that do not have competition in the industry"
Marek Šanta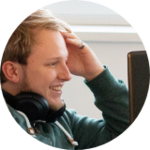 "The job is rewarding because you learn on a daily basis and you see the result of your development in the happiness on the faces of customers."
Peter Heško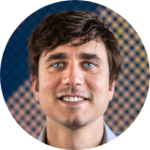 "I love the spirit and the culture that has been built by our team over time in our company. We trust and support our employees who have the drive to overcome challenges and look ahead for better solutions. Innovation is in the DNA of this company. We created the first fully digital LED boards for hockey stadiums. Our VAR technology is one of the very few certified by FIFA. Most Czech and Slovak premiere sports use our technology. The entire rugby league of France runs advertising on our platform. We supply our live broadcast solution to one of the biggest media companies in the world in charge of sports broadcasting and movies for Netflix."
Honza Smrček, CEO
Who to contact?
General contact for job applications:
E-mail: job @goalsport .software
Pavel Kohoutek
Head Developer of Goal Sport Software (Daite s.r.o)
E-mail: pkohoutek @daite .cz
Phone: +420 739 468 880