We are a digital agency with an emphasis on development. The alpha and omega in our work is the professional Kentico platform - on which we are building web and mobile applications. We offer cooperation on long-term projects for our Czech and also international clients such as Sazka, Walmark, Cyrrus, Bank Austria, or CzechInvest, a background of modern offices in CERIT Science park, a fair salary, and company benefits.
Who we are
Bluesoft was founded in 2009 by two web developers - Jiří Barbořík and Jakub Hanák who met in Kentico in Brno. They worked there for five years and they helped to improve and develop this CMS system but the desire to create their projects was stronger. The Bluesoft company was established and Jiří and Jakub started creating websites on Kentico platform themselves. Since its founding the company has grown, today our team consists of around 30 internal specialists who have participated in more than 200 projects. We work comprehensively on web strategies, through design and development to digital marketing.

The item young and great team often appears among the company benefits. For some companies, it may seem like a cliché but for us it is true! Many of us are still studying or just finished school so we manage to maintain a youthful spirit and an informal environment in the company.
Cooperation with the Faculty of Informatics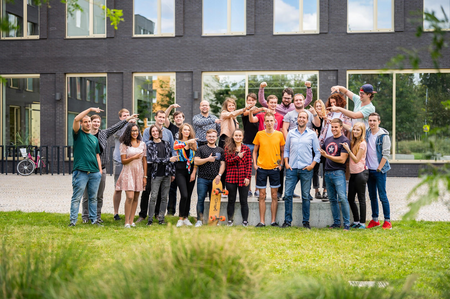 Bluesoft is based in Brno and now employs around 30 people. We have been an industrial partner of the Faculty of Informatics since 2020 in the SME category.
Cooperation with students
We are open to cooperation with students and we try to support them in combining their study and the job in our company. For all our positions we offer cooperation both part-time and full-time so students can choose according to their time options. We rely on flexibility and freedom so our students do not have to worry about a strict timetable at work. And for whom do we currently have a vacant chair? You can find a list of job positions on our website in the Career section.
Supervision of final theses and internships
We offer the opportunity to prepare a bachelor or master thesis with us. While writing the thesis we support the student and we are there for him/her. We also do not oppose the possibility of completing an internship with us.
Part-time job
We offer students part-time jobs so they can practically try working on projects and gain new experience with web development. Our main values include flexibility therefore students easily plan their time at work. It is not a problem to take time off during the exam period.
What technologies do we use?
We keep up with current technologies that is why we most often reach for the .NET Core MVC framework with the C# language for back-end development. For front-end applications, we prefer to use Vue.js and of course the precise HTML/CSS coding of dynamic websites.

Since we work comprehensively on websites - from strategy through design to the development itself - both those interested in front-end and back-end will find employment with us. The advantage for us is the knowledge of Kentico platform but it is certainly not an unsolvable obstacle, we will be happy to teach a person to work with this system.
Who will fit in with us?
We are happy to welcome students of computer science or other technically oriented fields who are proactive, want to get involved in an interesting project. We expect basic knowledge acquired in professional subjects at the university, a good level of English, and a willingness to communicate with colleagues in the team. We prefer long-term cooperation which can smoothly transition to the main employment after graduation. But we are also happy to meet students who are interested in a shorter part-time job or internship.
What our students say about us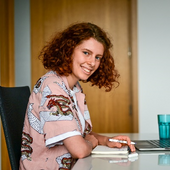 "I discovered Bluesoft thanks to a friend who has been working here already for a few months. Right after I started I met a team of great people and I got the opportunity to participate in interesting projects. It allowed me to gain practical experience in web design and soft skills. I can use the knowledge from Bluesoft at school and vice versa, which greatly enriches my studies. I also appreciate the flexibility of work, where I have the opportunity to come here between lectures or take time off to complete exams or state exams."
Lucie Novotná, UX Designer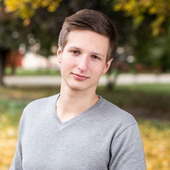 "I joined Bluesoft at the beginning of the 3rd semester of my studies. Thanks to the help of more experienced colleagues and a friendly atmosphere it was not difficult to acclimatize to the new environment. Working in a company helped me to practically apply the knowledge gained at school and further deepen it, work in a team, and use new technologies. I use practical experience during my studies, which makes it easier in many aspects. I like the flexibility of working hours, the possibility of study leave, and the alternation of school with work without the need to travel."
Peter Holodňák, Backend developer
Where can you learn even more about us?
You can read about our current projects on our website. If you want to become part of our team, then your next steps should be directed to the Career section, where we advertise vacancies.
Bluesoft is also on Facebook , Instagram and LinkedInu , where you will find references from our clients as well as photos from our favorite teambuildings.
Who to contact?
Natálie Švachová
HR & Marketing assistant
| | |
| --- | --- |
| E-mail: | svachova@bluesoft .cz |
| Phone: | 0420 734 594 018 |