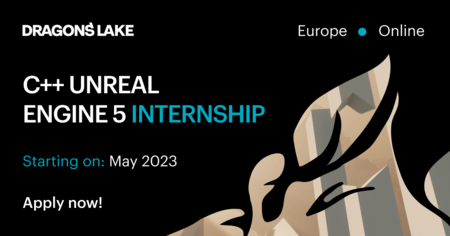 Internship in Dragons Lake
Dragons Lake is launching С++ Unreal Engine 5 Internship this May. It is an excellent chance to boost your skills under the guidance of our experienced mentors.
Are you a final-year student gravitating towards gamedev, C++, and the opportunity to work on top AAA titles? Then it may be a match 😉
Dragons Lake is a multi-genre game development studio working on top AAA titles such as Outriders, The Quarry, Life is Strange, and many others – you might have even played these games.

Fundamental knowledge of C++ basics, an understanding of linear algebra, excellent English, and a passion for video games is the key to your success 💎

Complete 4 levels of the quest to immerse yourself in the industry:
🏆 Send an application;
🏆 Do a test task;
🏆 Have a technical and soft skills interview;
🏆 Have a final interview with the Lead Trainer.
We offer 800+ hours of hands-on experience and non-stop learning over 6 months of remote full-time work from anywhere to immerse yourself in the industry 🗺️🎮

We appreciate your time and effort, so you will be rewarded throughout your studies. Successful internship graduates also get the opportunity to join Dragons Lake team as C++ Engine/UE Developers!

 So what are you waiting for? Apply now, places are limited.
 Learn more about the opportunity via the link 👉https://tinyurl.com/4js47x5y
Web address

Attachments
Original bulletin
in the Information system.