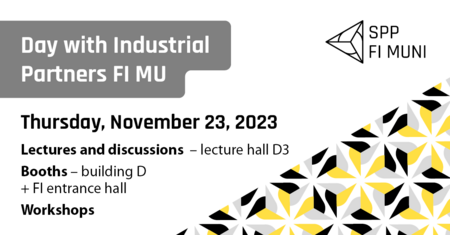 Day with industrial partners on Thursday, November 23, 2023
Would you like to learn about the cooperation with companies within the Association of Industrial Partners of FI MU (SPP FI MU), the possibilities to actively connect the faculty with the world of practice, and how to benefit from this cooperation?

Then come to the Day with Industrial Partners (SPP Day), a day-long event focused on cooperation in SPP and designed for company representatives, academics, students, and anyone interested in what is happening in SPP.
What can the SPP Day program bring and show you this time? Within the talks, you will learn more about doctoral studies in cooperation with companies and beyond, discover examples of successful cooperation in practice and get an overview of the companies involved in SPP. You can also meet practitioners directly at the booths or improve your knowledge and skills at workshops organized by the companies. 
On Thursday, November 23, 2023 at the Faculty of Informatics MU.
You can look forward to lectures, booths, and workshops.
We believe that the planned program will be an interesting and rewarding experience.
Web address

Attachments