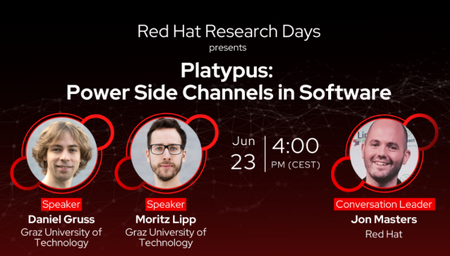 Red Hat Research Days - Platypus: Power Side Channels in Software
Join us for the next Red Hat Research Days Event on June 23 at 4PM to 6PM CEST featuring Graz University of Technology security researchers: 
Daniel Gruss and Moritz Lipp who will present Platypus attacks: a method that allows power side-channel attacks even without physical access. 
The whole session will be accompanied by a live interactive discussion led by Jon Masters, creator of the Red Hat Arm and microprocessor side-channel security vulnerability mitigation efforts. 
The discussion will be open to all attendees interested in exploring this topic deeper.
More details and registration can be found on the event website.
Web address

Attachments
Original bulletin
in the Information system.