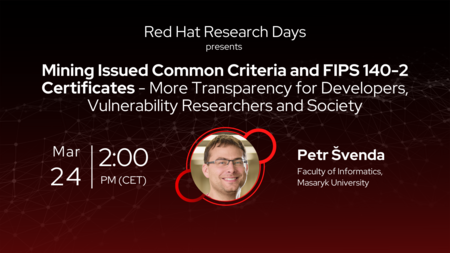 Red Hat Research Days - Petr Švenda
Petr Švenda, computer security researcher, associate professor and member of the Centre for Research on Cryptography and Security will be presenting at Red Hat's Research Days event on March 24, Wednesday at 2:00 PM.
Join us for a 90-minute live talk and discussion about data-based insight into certification ecosystems with an open source tool for automatic analysis of the publicly available certification reports. The live discussion part of the event is open to anyone, so bring your ideas and questions to the group. Can't attend live? Register anyway, we'll be sending out recordings after the event to all registrants. 
More details and registration can be found on the event website.
Attachments