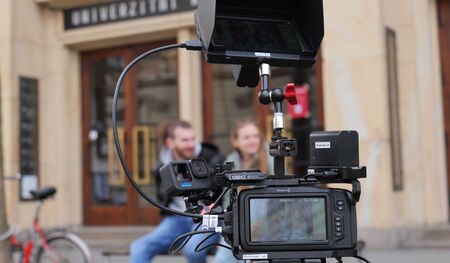 What you might not know about the FI MU Film Festival
The 23rd FI MU Film Festival took place on May 19, 2023 in the University Cinema Scala and at the MU Faculty of Informatics at the same time. The FI MU Dean Jiří Zlatuška took over the patronage of the festival. 13 original films with the theme "On the edge" were shown during the festival evening.
What does "On the Edge" mean? The organizers say that it is a state of uncertainty and  full of potential at the same time. A moment of heightened attention and tension. A moment of intense creativity and inspiration, or the brink of despair and hopelessness, requiring resilience and creative will. Sometimes we learn how to balance on the edge, but in the end we always have to decide which direction to go, which values we stand for and which version of the future appeals to us more. Therefore, let's go beyond what is comfortable together.
The history of the FI MU Film Festival is linked to the audiovisual project "Všech pět pohromadě", which was created on the occasion of the five-year anniversary of the faculty in 1999. From the beginning, multimedia creation enthusiasts did not have the necessary technology, background or mentorship, so the subject Multimedia electronic publication was created. which subsequently evolved into the current courses FI:PV110 Fundamentals of Cinematic Speech and FI:PV113  Audiovisual Work Production, which are open to students across the university. In these subjects, students learn to create short film works.
They have their background in the Laboratory of electronic and multimedia applications (LEMMA). LEMMA students will go through the entire creative process of filmmaking, from proposing a theme, through literary and technical script, direction, production and editing in post-production. Students participate in several groups, where they develop their soft skills in the organization and promotion of the festival, their creativity in making their videos, visuals or websites, as well as their technical skills. 
The festival winners are selected in two ways: by the choice of an independent expert jury, which is financially rewarded, and by the audience's choice, which is rewarded with material prizes.
This year, the jury included: Petr Sojka (FI MU, founder and director of the FI MU Film Festival), Kristýna Bartošková (director, screenwriter, camerawoman, etc.), Robert Král (impresario of the Napříč.cz theater, external pedagogue FI MU), Jiří Vanýsek St. (director, screenwriter, pedagogue at JAMU, FŠ Zlín), Lukáš Gregor (studio head at TUB, vice-dean at FMK), Radomír D. Kokeš (film analyst and historian, writer).
You can find the list of this year's winners on the
festival's website
, where you can also play its recording.
Attachments
Original bulletin
in the Information system.