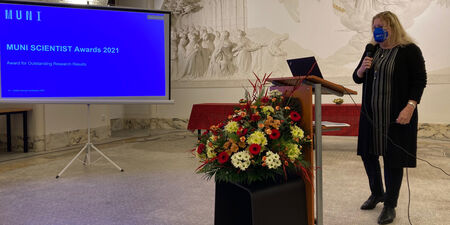 The MUNI Scientist 2021 awards found their owners. Scientists from the Faculty of Informatics of MU celebrate three awards!
On 22 November 2021, the second edition of the MUNI Scientist 2021 Awards took place in the Mendel Refectory at the Augustinian Abbey in Old Brno. The award is part of the activities of the Grant Agency of MU and is intended for significant achievements in the field of research. Its purpose is also to motivate scientists to conduct cutting-edge research and to raise the prestige of the university and faculties within the scientific community and in the eyes of the public.
The scientists from the Faculty of Informatics of MU celebrate the following achievements:
Barbora Bühnová, the Vice Dean for Industrial Relations at FI MU, was awarded for her international scientific reputation, outreach activities and high-quality publication results. Among others, she is the elected Chair of the Steering Committee of ICSA (International Conference on Software Architecture) and Vice-Chair of EUGAIN, the European Network for Gender Balance in Informatics.
Miloš Dokulil, from the Department of Machine Learning and Data Processing at FI MU, was awarded for his work on the hidden legacy of one of the world's most important 20th century thinkers, Brno-born Kurt Gödel, and his possible personal religious insight as the author of a modally logical version of the proof of God's existence.
Barbora Kozlíková, from the Department of Visual Computing at FI MU, was awarded as a world-renowned expert in the field of data visualization and founder of the VisItLab visualization group. In 2021, she published four articles as a co-author in the peer-reviewed scientific journal IEEE Transactions on Visualization and Computer Graphics.
Our sincere congratulations to all three awardees!
The laureates received the award from the Vice-Rector for Research and Doctoral Studies Ms Šárka Pospíšilová. In total, over thirty scientists and researchers who have achieved exceptional results in their research work in the past year were awarded. The group of MUNI Scientists now numbers more than seventy individuals and will certainly continue to grow in the years to come.
For more information about the event and an overview of all the awardees, please see the M Magazine. (CZ only) 
Fofo: Twitter @MUNI_Science
Attachments
Original bulletin
in the Information system.