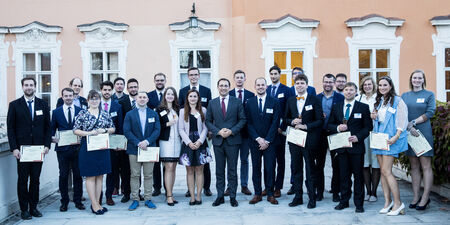 Samuel Pastva from the Faculty of Informatics MU won the Joseph Fourier Prize. Congratulations!
RNDr. Samuel Pastva, a student of the Ph.D. programme in Computer Science at FI MU, won the first place in the prestigious Joseph Fourier Prize 2021 competition. He succeeded with his thesis "Towards Digital Bifurcation Analysis in Bioinformatics", dealing with a computer analysis of data allowing investigation and prediction of processes causing changes in cells. 
The awards were presented on 30 September 2021 in the Music Hall of the Buquoy Palace at the French Embassy in the Czech Republic. The event was chaired by Jean-Marie Lehn, winner of the 1987 Nobel Prize in Chemistry, Pavel Doleček, Deputy Minister for Higher Education, Science and Research, and the French Ambassador Alexis Dutertre.
The list of laureates and further information about the event (in CZ or FR) is available at: https://www.ifp.cz/cz/homepage/article12-laureati-vedeckych-cen-velvyslanectvi-francie-v-ceske-republice-za-rok-2021#/ 
Congratulations to all the winners!
Every year, the French Embassy in the Czech Republic rewards young scientists from Czech universities and research institutions, in seven areas of research. The Joseph Fourier Prize is awarded within the field of Computer Science and Informatics, organized in cooperation with Atos IT Solutions and Services, s.r.o. The winners in each category receive a cash prize from the partner organisations. In addition, the first and second prize winners are awarded a scholarship by the French Embassy to spend a month in a French laboratory of their choice.
Photo credit: Eva Kořínková
Attachments