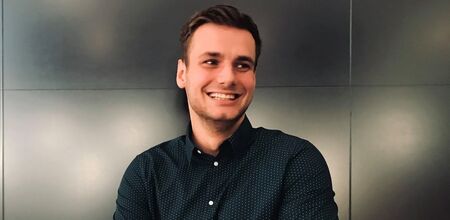 Czechia third in the world's biggest cyber defense exercise. FI MU Information Security student was part of the team
The national team of the Czech Republic made up of representatives of the state, the private sector, and academia placed 3rd out of 22 teams in the biggest cyber defense exercise in the world Locked Shields 2021.
Thanks to Andrej Tomči, FI MU participated in the national team. Andrej Tomčí is a student of the follow-up master's program Computer Systems, Communication, and Security with a specialization in Information Security.
We asked Andrei a few questions.
How did you get into the team, how many members were there and what was your role?
I want to thank the Cybersecurity Team of Masaryk University, with whom I have been cooperating since the first year of my studies, for the opportunity to participate in this exercise. I recommend students interested in cybersecurity to visit csirt.muni.cz, where you will learn more about what CSIRT-MU does and how you can cooperate.
There were several dozen of us at Locked Shields 2021. The team was composed of experts from various institutions and companies (NÚKIB, NAKIT, CZ.NIC, CESNET, MU, Avast, Red Hat, PwC, Accenture). The National Cyber and Information Security Agency (NÚKIB) coordinated it. My job was to provide several web services, protect them from hacker attacks, and keep these services available and functional for legitimate users.
Which subjects from your current Bc. and NMgr. studies at FI were, in retrospect, essential for success in competition?
It is difficult to list all the subjects from which I used the knowledge in the exercise. But I would like to highlight the following subjects, which I think gave me the most during my studies:
• PV080 Information security and cryptography
• PV276 Cyberattack Simulation Seminar
• J012 Digital Forensics, NetworkForensics group
• PV079 Applied Cryptography
• PV181 Laboratory of security and applied cryptography
• PA193 Secure coding principles and practices
• PV204 Security technologies
I recommend these items to anyone interested in security. I will also highlight the experience gained during the work on my bachelor's thesis. In cooperation with experts from the CSIRT-MU, I focused, among other things, on the course of safety exercises and the activities of individual participants in the exercise.
What was your experience with similar exercises before the competition, how did the background at FI MU help you, specifically the KYPO.fi.muni.cz laboratory?
Locked Shields is the largest exercise of its kind globally, and this was my first participation in it. Thanks to the cooperation with CSIRT-MU, however, I had the opportunity to work on the preparation and implementation of Cyber ​​Czech, a cybersecurity exercise of a similar nature. It gave me experience with such exercises, which I used during Locked Shields.
I was also definitely helped by the subjects taught at FI MU, which I mention above. They provide the necessary theoretical foundations, without which you cannot do it, but they do not forget the much-needed practical application of knowledge. KYPO helps a lot in this, which provides the necessary physical space and an even more crucial virtual environment and "battlefield." As students, we have the opportunity to try to apply learned knowledge and techniques in a safe and isolated environment.
Thank you for the answers, and we wish Andrej a lot of study and work success.
Web address

Attachments