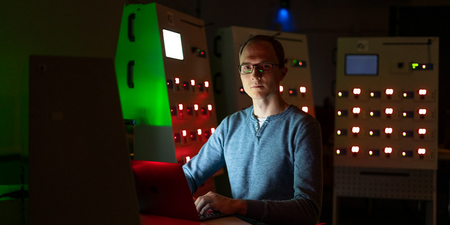 Valdemar Švábenský from FI MU is the winner of the Joseph Fourier Prize
On Thursday 23 June 2022, the Embassy of France in the Czech Republic presented the 2022 Scientific Awards. The Joseph Fourier Prize in the Computer Science and Informatics category was awarded to FI MU Ph.D. student Valdemar Švábenský.
The award ceremony took place in the Music Hall of the Buquoy Palace of the French Embassy in the Czech Republic. The event was traditionally chaired by Jean-Marie Lehn, Nobel Prize winner in Chemistry, and the French Ambassador Alexis Dutertre. Alongside them this year were Jean Tirole, Nobel Laureate in Economics, and Thomas Ebbesen, winner of the Kavli Prize for Nanotechnology, who were also guests at the Sounds of Science event in Brno the following day as part of the MUNI Seminar Series.  
RNDr. Valdemar Švábenský, Ph.D. student of the Computer Science programme at FI MU, in his winning paper "Automated Feedback for Cybersecurity Training" analysed methods for supporting cybersecurity training using human-computer interaction. As he himself stated, he chose the topic because it combines three different areas of his interest in an original way: technical aspects of cybersecurity, data analysis and the resulting practical use in teaching. "In our research, we collect data on participants' interactions with the system. We then analyze this data to better understand how participants solve training tasks and where they make mistakes. We automatically visualize the results of the analysis and present them to participants and training organizers in the form of personalized feedback," he adds.  Ph.D. cantidate, an inspiring and popular teacher, as well as a fan of Christopher Nolan and Star Wars - that's what Valdemar Švábenský is all about, and FI MU rejoices in his achievements.
A list of all scientific prize winners and further information is available on the website of the French Institute in Prague.
Congratulations to all winners!
Every year, the French Embassy in the Czech Republic awards young scientists from Czech universities and research institutions in a total of seven categories. The Joseph Fourier Prize in Computer Science and Informatics, is organized in cooperation with Atos IT Solutions and Services, s.r.o. The winners in each category will receive a cash prize from the partner organisations. In addition, the first and second prize winners will receive a scholarship from the French Embassy to spend a month's research stay in a French laboratory of their choice.
Photo credits: Martin Zeman, Eva Kořínková
Web address

Attachments