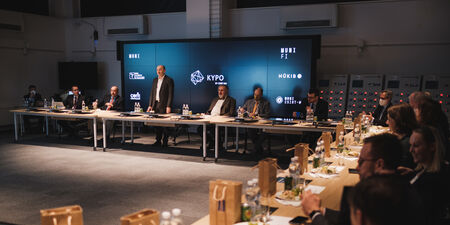 Representatives of FI MU presented to the delegation of the European Parliament activities of the faculty in the field of cybersecurity
A delegation from the European Parliament's Committee on Industry, Research and Energy (ITRE) visited Masaryk University (MU) at the end of February. Its members met with cybersecurity experts who presented their research activities. Among them were also representatives of the Faculty of Informatics MU (FI MU).
On the premises of CERIT FI MU, where security exercises usually take place, the representatives of the European Parliament got acquainted with the main research directions in the field of cybersecurity, which Masaryk University is dedicated to at the top level – for example, in the areas of critical information infrastructure protection, cryptography or law.

Radim Polčák, Masaryk University's Vice-Rector for Development, Legislation and Information Technology, emphasized the importance of Masaryk University's cybersecurity activities.

Tomáš Pitner, Scientific Director of CERIT FI MU, highlighted the benefits of cooperation with other universities, the public sector and enterprises. A concrete example is the Cybersecurity Hub, in which Masaryk University, Brno University of Technology and the Czech Technical University in Prague have combined their research.

Jiří Zlatuška, Dean of FI MU, presented the vision for the so-called Cyber Campus CZ, a space in Brno focused on the development of cooperation in cybersecurity and national security. 
Václav Matyáš, Vice Dean for Alumni Relations and Lifelong Learning at FI MU, followed up with a presentation on FI MU research achievements and highlighted student involvement in research activities.
The programme included a practical demonstration of the use of the KYPO Cyber Range Platform in cyber exercises prepared by experts from FI MU CERIT and Masaryk University's CSIRT-MU cyber security team. There were also discussions on promoting cooperation with industrial SMEs, ethical aspects of teaching, partnerships with the private sector, increasing the share of women in the study of computer science and the possibility of creating a consortium of universities engaged in cybersecurity research.

A delegation from the ITRE Committee is on a three-day visit to the Czech Republic. In Brno, they also met with representatives of the National Cyber and Information Security Agency (NÚKIB), which is a strategic partner of Masaryk University.

An overview of all participants and further information can be found in the MU's press release. (English automated translation available) 
(Foto: Martin Indruch)
Attachments