Theater for students as a soft skills course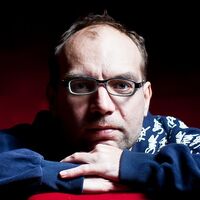 Motion picture is technically very close to computer science.
---
Robert Král first studied mathematical informatics, but as a doctoral student he decided to supplement the technically oriented field with an artistic direction. So he enrolled in film and television directing at the Film Academy of Performing Arts.
Today, he is the avant-garde soul of the Profidivadlo and the film festival at the Faculty of Informatics at MU, as well as the screenwriter and director of plays at the Brno association Napříč.CZ, which largely constitutes of MU graduates". Our latest game is Minifemini with the subtitle autopornographic diary, which we will repeat at the end of January in Šelepka", King invites.
What actually brought you to computer science?
I wanted to find out how to complete Manic Miner. I have always enjoyed mathematics, so after high school I started studying mathematical computer science. After obtaining a master's degree, I also started my postgraduate studies and taught as a teaching assistant Formal Languages and Automata for two years. Today, I only work at FI as an external faculty. I am proud of the faculty.
You teach the basics of film speech. Does such a subject belong to FI at all?
Motion picture is technically very close to computer science; after all films are now processed on computers. In addition, the basics of film speech are intended to provide students with a slightly different view of the world. It is a kind of compensation for technical thinking, which they will enjoy more than enough in informatics. In the first semester, students write their own screenplay for a short film. In the spring semester, this is followed by the subject Production of Audiovisual Works, where students shoot their films. They receive technology from the LEMMA laboratory, such as camcorders and editing programs. The films are then screened at the FI festival. In addition, students must participate in the organization of the festival, for example, prepare sandwiches for the jury. The student films are evaluated based on all these aspects.
What brought you to FAMU after studying computer science?
I was more interested in theater than studying motion picture at FAMU. However, I was not accepted to the Brno theater directing program. Coincidentally, there was a film festival running at the Faculty of Informatics, and I was quite excited by the idea. I bought a cheap camcorder and shot a three-minute film with my grandmother and grandfather. The Prague committee found it appealing, so I got into the film academy.
At the Faculty of Informatics, popular theater performances are created, in which you participate. How did you get involved?
I founded the theater together with associate professor Josef Prokeš. He provided me with organizational support and facilities, and I directed several performances. I had theater experience from before, because I used to run a small theater in Břeclav. This year will be the fifteenth year anniversary of the faculty theater, and it makes me happy that the theater is doing so well. It is mainly because the management of the faculty supports us a lot and accommodates us. It is also good for students, because they will learn to express themselves publicly, communicate and solve things collectively. It is actually similar to a soft skills course.
Do you encounter theater directing outside the Faculty of Informatics?
A few years ago, we founded the citizen's association Napříč.CZ, which organizes both theater performances and various happenings. I work there as a director. We call our theater a bio-theater because we are based on available sources. This means that we play original author's plays and we do not have trained actors. We compare it to a tomato. You can buy a beautiful tomato in the supermarket, but it does not have any taste. Or theater is like a tomato from a grandmother, which is variously cracked, but it tastes and smells like a tomato. Our latest play is Minifemini with the subtitle an autopornographic diary, which we will repeat on January 25th at Šelepka.
Do you also direct movies?
I made a half-hour movie Doprdelesvěta! (A journey to the Shithole!) which was also screened at the FI Film Festival. It is about three youngsters who go looking for the back of beyond and actually find it in a village near Dukovany. Small roles were played directly by the inhabitants of Litovany. The village actually works completely differently than the rest of the republic. Forty-two people live in it and that does not change. When someone is born, someone else must die.
So can I ask a funny story from the shoot?
When I was there for the first time, one of the residents offered me his daughter to marry. I turned her down at the time, but she picket out one of the actors the following time, which emotionally hurt me. Or when we were shooting a scene in the pub, we had to shoot more or less during the full operation because the locals could not understand that the pub should be closed. On the other hand, it was very pleasant to show the finished film to the residents; they reacted to it very spontaneously. It was an experience for them to see a neighbor's fence in the shot.
Everyone wants to make their own feature film. But I have always enjoyed the work around the screenplay.
Do you want to make a larger motion picture piece?
Everyone wants to make their own feature film. But I've always enjoyed working around the script and the actors rather than the camera and post-production. I even wrote a few scene outlines for the Rose Garden Surgery TV series. It was an interesting experience. In my episodes, there was a conflict between Pusenský and Frynta, and a couple was just breaking up. I stopped following what happened next.
What is the difference between a scene outline and a screenplay?
The lead screenwriter writes a storyline. He gave me about a one page assignment of what should happen in a particular episode. I then rewrote it into about thirty scenes on about ten pages. Then my documents were handed to the author of the dialogues, who made it into a classic screenplay.
So the screenplay is not written by one person?
The screenwriter in one person is more a matter of feature films. For TV series, it is a process that has to work whether one has the inspiration or not. When two episodes are broadcast every week, two episodes must also be produced each week. That is a crazy pace.
Does computer science intertwine with theater and directing?
Oh, yes. In addition to the creative component, directing includes a bit of organizational work too. In order to plan the entire course of rehearsals, this requires analytical thinking, which informatics develops.
How do movie and theater directing differ?
The theater is alive, the director works primarily with the actor and does not need million-crown budgets. The theater lets you work with hinting and wording; the spectator even requires it. There is more room for imagination. Making a movie, on the other hand, is more of a technological process. Another difference is that the play is often rehearsed in continuity, while the movie is shot alternately.
Did you stay loyal to computers at all after graduating from computer science?
Certainly. I deal with configuration or build management. In computer science, this is also called code versioning. In translation for a layperson, this means that I make a package from a certain version of the program and wrap it up. Although I enjoy the things that revolve around theater and film, working with computers is how I make a living. Another advantage is that one gets to work with super clever people.