Forty hours a week does not guarantee success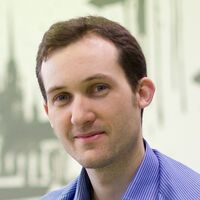 Somewhere in the world, at the same time, at least one and maybe another ten teams are working on the same project and giving it eighty hours a week.
---
Even eight years after Michal Hrabí's graduation, one can find on Youtube his student film parody called The Brno Massacre by a Dental Drill.
"I'm laughing about it today, but at school I really thought that together with my friends we would set up a big film studio," says a graduate of the Faculty of Informatics. In the end, it ended completely differently. Hrabí currently works as a startup program manager at South Moravian Innovation Center (JIC) and thus helps innovative ideas and companies succeed in the market.
In one of your presentations, you once said that you evaluate about 250 ideas a year, which the authors think have the potential to be profitable. What percentage of them you reject right away; tell them it will not work? And what are the mistakes?
About ninety percent of projects have no chance. Very often, the complete absence of market analysis is to blame. For example, the teams that apply to our StarCube accelerator are often created only by IT professionals who are convinced of the potential of their project, without asking anyone else's opinion. These people then lock themselves up, program for a few months, and when they start trying to sell their product, they find that no one is interested.
A few days ago, you were closing the application process for the StarCube business accelerator. Teams from abroad are also applying. What attracts them to the Czech Republic?
It is the maturity and complexity of activities we offer them in Brno. And I do not mean just JIC. Thanks to universities, cooperating organizations and companies, we can give them more than any place in Central Europe. I can say this with full responsibility because I have seen a number of foreign centers. Schools and companies such as FEI, Tescan, Flextronics or YSoft are helping to transform the region into a region of knowledge-based economy. However, not everyone perceives it positively. Czech pettiness manifests itself in the fact that when someone does something well, someone else sees that as a threat. Try to imagine, and I sometimes find this entertaining, that the language of instruction at Czech universities changed to English. What could happen?
I could think of responses about attacks on the Czech language and identity, but this is probably not what you mean.
No, I do not. The education market would then open to students and, for example, to teachers from all over the world. Anyone who speaks English, for example from Germany or Romania, could say that there is a good quality of life, we do quality things, we build infrastructure and large projects such as Ceitec and that they want to come to Brno. Suddenly, students and teachers would have to try much harder.
Czech pettiness manifests itself in the fact that when someone does something well, someone else sees that as a threat.
So with the help of foreign teams, do you motivate the domestic ones?
Yes, it can be said that our problem is that we are too well, we are becoming complacent. If you stopped working in the Czech Republic and started living from the social support system, you would not die of hunger. If you did the same in Pakistan, you would certainly die. Naturally, people of these countries have to try much harder. Many people from Czech teams say that they really want to put their project into practice, and they are willing to devote up to eight hours a day to it. There was a young man from Palestine here, and he worked twelve hours a day at least, seven days a week, maybe even more. He was able to move his project forward tremendously, and his company then acquired an interesting investment in the millions.
This is probably not a good presentation for the Czech participants in the program, is it?
I do not think so. We are just trying to show people that even those forty hours a week are not enough. Because somewhere else in the world, at least one and maybe another ten teams are working on the same project at the same time, pulling in eighty hours a week. There are a lot of people in the Czech Republic who really work hard, but then there are people who just live a startup lifestyle - yes, they work, but they also go to various events with friends and end up spending a lot of time enjoying everything around, which then shortens the time spent on the project.
Have you never wanted to do business yourself?
Oh yes I have, I was an entrepreneur and I still have an active trade license. Before I started working for JIC, my income from business significantly exceeded income from employment; I had various part-time jobs and did business, and at one point I specialized in computer graphics, animation or video clips. Already at school I helped to organize the faculty film festival. It was at that time I also shot a parody: the Brno Massacre with a Dental Drill; things developed gradually. But recently I have not had much time for my own business. It has been at least three years. I only maintain small projects, mainly because I am trying different forms of cooperation with different people, in order to find out who can do what in the Czech Republic. My current job is consuming me. Now my goal is to help others.
But you were originally going in a different direction, were you not?
Yes, in high school, I thought I was going to be a neurosurgeon.
Why did it not work out?
I remember dissecting a duck or a chicken in the final year seminar, which was not a problem for me, but I thought, well, but if I become a surgeon, I will have this in front of my eyes every day. Not that it bothered me; my mother worked at the university and often autopsies, which she prepared for students, first had me and my brother tested. It seemed natural to me. But I just did not want to do something that would repeat a lot. In addition, I got crazy about computers on high school. That is why in the end I applied to the faculties of informatics and chose Masaryk University. When I started in JIC, I felt that something should be created that I had missed at school. I wanted to create a place where a student can walk in with a business idea, and get advise whether it is nonsense or not. That is why now at the faculty I also teach a subject of innovation in business. By the way, students can just sign up for it.
Consulting is one of the roles of JIC. Do you feel that the situation has generally improved in this regard?
It is certainly recognizable that the emphasis is on making students more successful in the field, but especially as employees. Systematic orientation towards entrepreneurship though, is still lacking. Masaryk University is relatively fine in this area, it concentrates on dealing with commercialization among universities. However, such effort is not yet widely seen in the DNA of other universities.