Fresh MU graduate heads straight to Google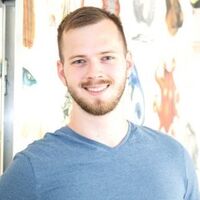 While many people see it as a disadvantage that the programme is quite theoretical, I think it's actually the opposite – it makes you ready for anything, says Juraj.
---
Juraj completed his master's degree at the MU Faculty of Informatics in June and started as a full-time Google employee in Zurich in September. He did not have any job interviews and was even allowed to choose the Google office and team where he would like to work. So how did he accomplish this? By completing three summer internships at the company during his studies. And he says that being selected for an internship is not particularly difficult.
Juraj encourages younger students to follow in his footsteps: "Students often assume that getting an internship with Google or another large company is hard. The truth is that companies keep hiring more and more employees, which means they also accept many interns. You just have to give it a try."
When he applied for an internship at Google during his first year as a BA student at Masaryk University, he had already acquired significant experience at that point. As an IT enthusiast from a young age, he created three mobile games while he was still at secondary school and added a fourth after he enrolled at the university. Altogether, they have been downloaded more than 800,000 times. He also completed a university correspondence course in programming for students of elementary and secondary schools, which focused on solving algorithmic tasks.
"It was really helpful that I had learned algorithms while still at secondary school since they are an essential component of job interviews at Google. The experience I had with developing Android apps also came in handy because that's what I was working on during my internships," says the fresh graduate.
He spent his first summer as a university student at the Zurich branch of Google, where he worked in the Google Maps team and created the settings menu for the function that allows users to track their routes over the long term. However, he is quick to point out that results are not what matters in Google internships.
"It is essentially a three-month job interview. I did some work, obviously, but the work that you produce doesn't really make a difference to your team or the company. What they are aiming for is to get to know the applicants and decide whether they are potentially good employees," says Juraj, adding that the company has an established strategy of two internships, a STEP (Student Training in Engineering Program) internship and a regular internship, followed by a full-time job offer.
Courses finished a year early
Juraj completed his second internship a year later at the Google branch in California, where he worked in the Google Play Games team. While he technically had the whole last year of his BA studies ahead of him when he came back, he had actually passed all the required courses ahead of time and only had his bachelor's thesis to write.
"Looking back, the freedom and flexibility of studying at Masaryk University are what I appreciate the most. If you are a good student, you can choose to complete 50 credits per semester and be done with all the requirements a year earlier," says Juraj, adding that he often took advantage of the opportunity to watch recorded lectures.
He also appreciates the more theoretical nature of studies at MUNI: "While many people see it as a disadvantage that the programme is quite theoretical, I think it's actually the opposite. A programmer who has that theoretical background can start at any company and find it easy to fit in. This is because wherever you work, the theory remains the same, it's just the packaging that's different."
Juraj decided to take the summer off when he finished his bachelor's degree, so he scheduled his third internship for the summer after his first year as a master's degree student. This time, he went to the Google branch in Boston and as chance would have it, he worked on Google Play Games again. However, both the service and the team had changed completely during his two-year absence.
According to Juraj, his code writing skills always improved a great deal during his time at Google, which was another benefit of his internships. During his first internship, he had to spend a week correcting the first hundred lines of code he submitted, while the number of corrections significantly dwindled his second time around.
"When I was about to finish my master's, they told me I can have a full-time job with them, and I could choose to start at their Zurich branch so that I could fly back to Brno more often to see my girlfriend. I was also lucky in that I was accepted to the team where I worked during my first internship," says the young programmer with a smile. However, he doesn't intend his move to Zurich to be permanent as he fell in love with Brno as a student and plans to return.
During his student years, he was a part of the ProFIdivadlo student theatre group at the Faculty of Informatics (link in Czech). The group rehearses one performance each year and students from all the programmes at the faculty fill in all the positions from stagehands to actors. After four seasons as a lighting technician, he got a role in his last year. In addition, he made about fifty new friends each season.