FI MU alumnus makes million-dollar film business go round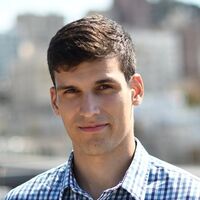 "The meteoric rise of the business started by a group of students took just six months. Their business began life in the Cambridge dorms, where Jakub Jurových – originally from Zvolen, Slovakia – enrolled after graduating from the Masaryk University Faculty of Informatics."
---
After Andrej Pančík, Jakub Jurových is now the second alumnus from the MU Faculty of Informatics who has made it on to the front page of the Slovak version of Forbes magazine and their list of 30 young talents under 30. Jakub is the CTO of Operam, a company that helps promote Hollywood films.
At the age of 24, Jakub has already achieved a lot, including a master's degree from Cambridge. It is not easy to get hold of him in Brno – the business that he started with his friends two years ago mostly takes place in Los Angeles. However, some of his colleagues can be found in Prague and Bratislava, since he is not the only one at the company from Czechia or Slovakia.
Meanwhile, the number of people that work for Operam is constantly rising – in two years, it has risen from less than 10 to almost 130. Jakub, who graduated in Applied Informatics, sums it up as follows: "It all happened really fast."
The beginnings of Operam were much more humble. A group of young IT students built a start-up called Unite, an online marketing company for music studios. "And just as we were thinking where to take it next, we got a call out of the blue from a film company who asked us if we could provide the same service for them. We took a look at their budget and saw numbers that we had never worked with before. This was obviously a market that we wanted to get into," says Jakub.
Even though they did not have any previous experience in the film industry, they decided to go ahead and simply apply their know-how to it – and it worked. Later on, when they compared their results with the results of their competitors, theirs were significantly better.
Tailored advertising
Operam uses freely accessible data about internet users to target ads for specific films. While they are certainly not the only company which does this, they simply do it better than the others.
Their rise to fame began with two low-budget films. Both were released in the US in the same month and nobody expected much from either of them; however, both did surprisingly well at the box office. When people started digging to find the reason for this, they found one common denominator: Operam.
"You may not realise it, but Hollywood is actually not that big and news travels pretty fast. After this start, we were contacted by A24, a smaller studio that wanted us to help them with an art-horror film The Witch, which made it to the Sundance festival. Art films don't usually make a lot of money, but we managed to get there," explains Jakub.
This was one of the successes that propelled Operam on its way to the biggest studios and blockbusters in Hollywood. While confidentiality means they cannot talk much about their clients, they did help promote the latest version of Murder on the Orient Express and the comic hit Deadpool. There have been two Oscar ceremonies since Operam was founded and the company have worked with a number of films who received the award, such as Moonlight in 2016 and The Shape of Water in 2017.
The meteoric rise of the business started by a group of students took just six months. Their business began life in the Cambridge dorms, where Jakub Jurových – originally from Zvolen, Slovakia – enrolled after graduating from the Masaryk University Faculty of Informatics.
In the beginning, he was actually considering skipping university altogether. "I started building websites as a kid and by the time I was around seventeen, I was making a living from it. It seemed like I didn't really need university for anything, but if I went, the only option that I would consider was informatics. So I thought I'd give it a try for one semester and see how it went," says Jakub. He eventually came to enjoy his studies in Brno, even though for the last six months he was actually commuting from Prague, where he was working on another project called Represent with Andrej Pančík.
His three years in Brno convinced Jakub that it made sense to go to university – so much so, that he decided to continue with his studies, just change places. Which he did in big style: he applied to both Oxford and Cambridge, the most famous UK universities. He was accepted at both and chose Cambridge, but in the end, he failed to enrol. Why? "His explanation was that he had a job to finish, so he asked them whether he could enrol a year later," says Petr Sojkawho taught Jakub Jurových at MU and ended up writing him letters of recommendation for the UK universities two years in a row. Jakub finally enrolled one year later.
"He wasn't particularly noticeable, really, but he was always very organised and focused, and whatever he came with was always perfectly thought-out. It was only when I was filling in the recommendation form in our information system that I noticed that Jakub's study average put him in the top 1% of students in his programme."
Jakub talks about his Cambridge experience as if it was no big deal. "I wanted to see what it was like and whether it would be possible to work during my studies. It turned out that it was. The atmosphere at the university was very nice, I liked it and even learned to play polo," he says with a smile. While he does see differences between his studies in Czechia and UK, they are a bit different than you would expect. In his opinion, the famous Cambridge University is not actually more difficult – the difference is in the students.
Masaryk University or Cambridge?
"I met many different types of people at Masaryk University. Some of them just while away their time at university and you have to look for the good ones. At Cambridge, it's the other way round: all the students were incredibly motivated to work, which generates completely different results," says the graduate from both schools, who also notes that he actually learned more from his classes at Muni.
"I had many classes that I really enjoyed and that gave me a lot. And the quality of study materials is incomparable: the MU Faculty of Informatics definitely wins. At Cambridge, you feel that the teachers are focused on research rather than teaching."
Jakub is not yet 25 and has already achieved what many people dream of – and not only at the Faculty of Informatics – running a big business and living life on the sunny west coast of the US, chock-full of innovation start-ups. However, Jakub does not think the place where he lives is so different or so much better. In his own words, while he would live a slightly different life in Prague or Bratislava, it would not necessarily be any worse than the one he has now.