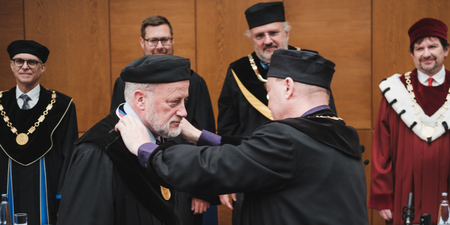 Ross J. Anderson received an honorary doctorate from MU in computer science
Ross J. Anderson, Professor of Security Engineering at the Department of Computer Science and Technology at Cambridge University, is one of the recipients of an honorary doctorate from MU in computer science.
In addition to recognizing his undisputed scientific achievements, Masaryk University also recognized Anderson's long-standing friendship and collaboration with researchers from MU's Faculty of Informatics. He has provided many of them with support during long-term research stays. "Many PhD students also had the opportunity to visit the security group of the University of Cambridge's computer laboratory or to participate in a workshop on security protocols," said Jiří Zlatuska, Dean of FI MU. R. J. Anderson also visited Brno several times for cybersecurity-related events, such as the Security Protocols Workshop. 
In his speech, the MU doctor honoris causa described the areas he has been working on in his scientific work over the years, such as the project to electrify millions of households in South Africa using cryptography or the project to secure payment systems in the UK. He also called on the academic world to be more responsive to the challenges of the real world and to offer appropriate solutions. "As technology changes our world, we academics will have to develop many new disciplines to cope. This will be most pronounced in the natural sciences and engineering, but major changes will permeate other fields as well. So let's also look for the real problems in academia and then build the teams needed to solve them," said Ross J. Anderson.
 The ceremony took place on April 21, 2022, in the MU School of Law Auditorium. Along with Professor Anderson, Ondřej Křivánek, a world-renowned physicist, instrument designer, and technology developer, was honored for his contributions in the field of electron microscopy, among others.
In the afternoon, Ross J. Anderson then moved to the refectory of the Mendel Museum in Augustinian Abbey. There, as part of the MUNI Seminar Series, he further developed the idea of the pervasiveness of technology in everyday life and the role of computer scientists in finding related solutions in his talk "Sustainability of Security, Safety and Privacy." The audience was able to attend the lecture after two years, when the original date of the event was cancelled due to the covid epidemic.
We are delighted that Professor Anderson graced us with his visit and look forward to working with him again!

Photo: M. Indruch
Attachments