Thu, 20 Sep 2012
Hanwag Boots
Afters about 10 years, my Hanwag Alaska boots have disintegrated while I've been walking in the forest during this year's Svíčky. I will need a new boots. Which boots do you recommend, my dear lazyweb?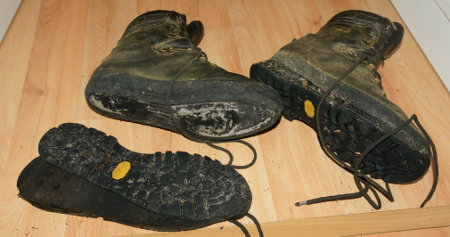 I have been satisfied with Alaska, and I have chosen them because the big part of the boot is made from one piece with only one seam i the back. However, the middle part of the sole has completely disintegrated. The consipration theory follows: I wonder whether it could be intentional from the manufacturer, in order to not allow their customers to use the product for more than 10 years. In my opinion it should be possible to find a material which lasts almost indefinitely. That said, from my previous experience the sole was the weakest part of all my previous boots in terms of endurance. So maybe it is perfectly OK to expect the boots to last only 10 years. What do you think?
4 replies for this story:
I have very similar (maybe even exactly the same) boots, i've had them for five years (of what I'd call moderate to heavy use) and I'm going to have to buy a new pair for the next year. There are two problems with them: 1) the soles are almost flat 2) there's a hole where the leather meets the rubber lining near my right foot's toe (this probably has something to do with the way I walk, since most of my right shoes die much sooner than their left companions :-). So I too believe the sole is the Achilles' heel of the shoe, but I'd still say getting 10 years out of walking boots is quite enough.
b42 wrote:
I'd try to ask at Hudy (or wherever you bought them) if it's possible to replace the soles. From what I was told, some boots are made so that their soles can be replaced when they wear down. The cost will probably be significantlylower than that of new boots.
I had precisely the same ones and I think they are the best. Makub bought them, too, few years ago. I had used my pair quite heavily for I think nine years, one (left one?) torn apart in Slovenia two years ago. I tested and compared many models and decided for Hanwag Alaska again.
Thanks, everybody. As for repairing the boots - I have destroyed them by walking without the sole for several hours. But in case somebody needs it, I have heard good references to http://www.restday.cz/cs/oprava-treku - they do repairs and replacements of soles of trekking boots.
Reply to this story: