Sat, 14 Apr 2012
My New Bike
Several months ago, I have written about choosing a new bicycle. Here is the outcome: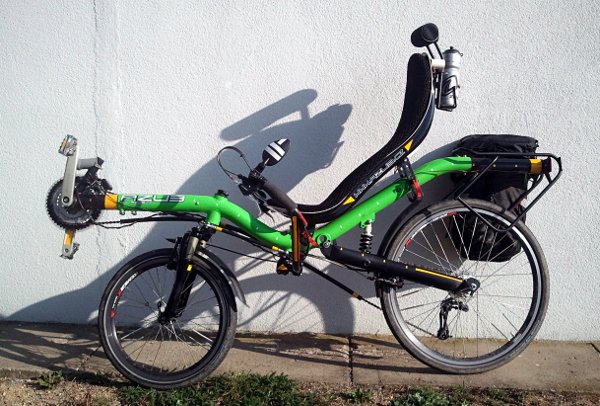 Introducing my new AZUB Apus. I have rented and extensively tested several recumbents from AZUB (20" Eco with above-seat steering, 24" Max with under-seat steering, and 26/20" Apus with above-seat steering), and I have decided to go for Apus with under-seat steering.
The next thing to decide was gearing. After testing 24" Max with 48-38-26 chainrings and 11-34 sprocket (about 570% ratio) I've got the feeling that I could occasionally use even slower gear (and with 26" rear wheel of Apus the 26/34 gear would be a bit faster than on a 24" wheel), and I can definitely use more faster gears. Recumbents are fast, especially going downhill, because of lower aerodynamic drag. So I wanted gearing with ratio larger than 570% and with the slowest gear slower than 26/34. This is hard to achieve with current components, so I went for triple gearing: I have got SRAM DualDrive in-hub planetary gearbox (three speed gearbox and 8-speed derailleur), combined with tree chainrings, giving me 3x3x8=72 gear combinations and over 920% ratio. One of the biggest advantages is that the gearbox gears can be changed even without pedaling, for example after having to stop unexpectedly.
After five months with Apus, I am still excited with it. I really enjoy being faster on flat surface and on downhills, being able to pedal even while turning, having excellent view with zero neck, wrists and backbone pain, being able to brake without the danger of falling ahead, sitting lower in case of fall, and so on.
The drawbacks are worse view when entering street crossings, being slower uphill, and not being able to jump over obstacles higher than about 10 cm). And the front suspension of the SASO carbon fork is not as good as I expected. I plan to try softer coil spring.
If I had to choose again, I would buy the same bike, possibly with not-so-steep sprocket (11-28 instead of 11-32). Also, having used really narrow tyres on my previous (road) bike, I did not pay much attention to the brakes - I have got V-brakes on my Apus, and I am not able to make the front wheel slip even when braking really hard (on asphalt roads). So probably next time I would get disc brakes instead (at least on the front wheel). Anyway, watch this guy's commute riding Apus on forest paths:
0 replies for this story:
Reply to this story: