Thu, 29 Mar 2007
Order of the Stick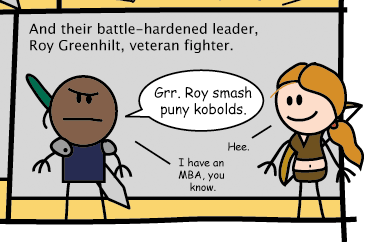 Have you ever played a fantasy role-playing game like Dungeons & Dragons[?] (or a local variant Dračí doupě)? And did you enjoy it? Then you may want to have a look at the Order of the Stick, a quite funy web comics, which takes place inside the RPG. The image is taken from the OotS cast page.
5 replies for this story:
Oh no. So much time wasted, again. At least I can blame you :-)
http://imgs.xkcd.com/comics/tabletop_roleplaying.png
rz wrote:
The users who had read OotS also enjoyed: http://www.thenoobcomic.com/daily/strip001.html (More about online RPGs and their specialties rather than DnD in general. Watch out for the hordes of generic evil creautres!)
Yenya wrote: Re: thenoobcomic
Hmm, I have looked at it, but I don't like it.
Reply to this story: