Tue, 30 Oct 2012
Bike Lights
I have a new personal project: I am trying to build a set of lights for my bike. So far my setup is quite simple: I use a 700 mA Buck Puck current regulator to feed a front Cree XM-L white LED and three rear 350 mA red LEDs. It can only be switched on or off, and cannot blink at all. So I wanted to make something more sophisticated.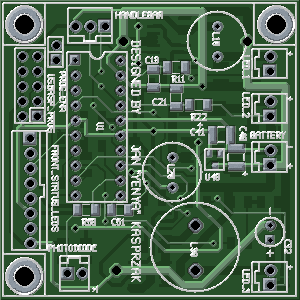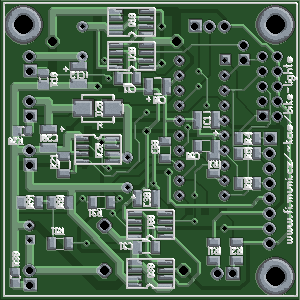 I have been playing with electronics many years ago in my teen-age years, but I have been doing only software since then. So I have taken this as an opportunity to find out what progress the world of DYI electronics has made, and to learn programming of microcontrollers. I want the resulting electronics to have the following features:
LED drivers for high-power LEDs:
Atmel AVR Tiny CPU, programmable in-system (various blinking modes, etc.).
Power: 7 to 12 V battery pack (either lithium or NiMH).
Ambient light sensor (for automatically setting the mode depending on the conditions).
Battery voltage monitoring.
Cycle computer illumination LED.
Two status LEDs.
Two buttons for adjusting modes, switching on/off, etc.
Software on/off.
High-power software switched output driven by a MOSFET transistor (I don't know the purpose yet, I just had a spare pin and MOSFET :-).
I have managed to learn how to use the gEDA suite of tools, and created my first PCB with it. Yesterday I have sent the result to the fab. Anyway, I have made the Project Bike Lights page for my project, where it is possible to watch the progress or look at the firmware code, schematics, and PCB design.
0 replies for this story:
Reply to this story: