Thu, 20 Sep 2012
Hanwag Boots
Afters about 10 years, my Hanwag Alaska boots have disintegrated while I've been walking in the forest during this year's Svíčky. I will need a new boots. Which boots do you recommend, my dear lazyweb?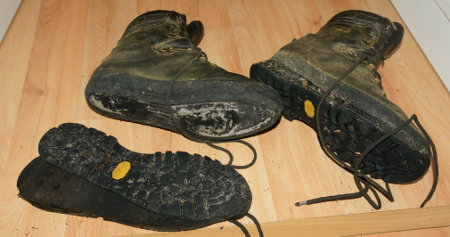 I have been satisfied with Alaska, and I have chosen them because the big part of the boot is made from one piece with only one seam i the back. However, the middle part of the sole has completely disintegrated. The consipration theory follows: I wonder whether it could be intentional from the manufacturer, in order to not allow their customers to use the product for more than 10 years. In my opinion it should be possible to find a material which lasts almost indefinitely. That said, from my previous experience the sole was the weakest part of all my previous boots in terms of endurance. So maybe it is perfectly OK to expect the boots to last only 10 years. What do you think?
Wed, 19 Sep 2012
Playing with Prezi
A while ago, I've came across Prezi presentation tool. It is completely different approach to presentation than slides with bullet-points. I didn't like the dependence on either the on-line access with Flash, or on the Windows executable (with embedded Flash, of course). Today, I did my first presentation using Prezi (together with Šimon).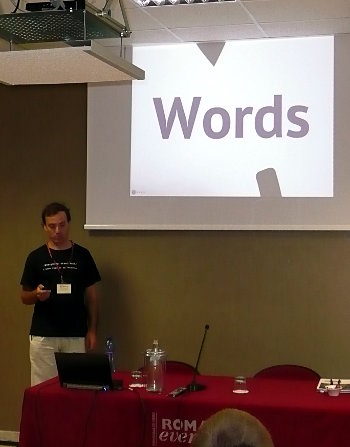 We have been given 10 minutes to present our approach to two sub-tasks of the Plagiarism Detection task of PAN 2012. We used Prezi in order to be able to focus on explaining our approach without devoting too much time to explaining the structure of the talk to the audience. I think this is a great strength of Prezi, if used correctly.
So, my dear readers, do you think Prezi can be a useful tool, or do you instead agree with Peter (in Slovak), that it is just an over-glorified eye-candy? You can see our presentation here. Thanks to Yuri for the photo!