Mon, 30 Jun 2008
Barcelona
Two weeks ago (yes, I am too busy to write a blog now) I have been to Barcelona. One of the busiest tourist destinations in the world is definitely an interesting place.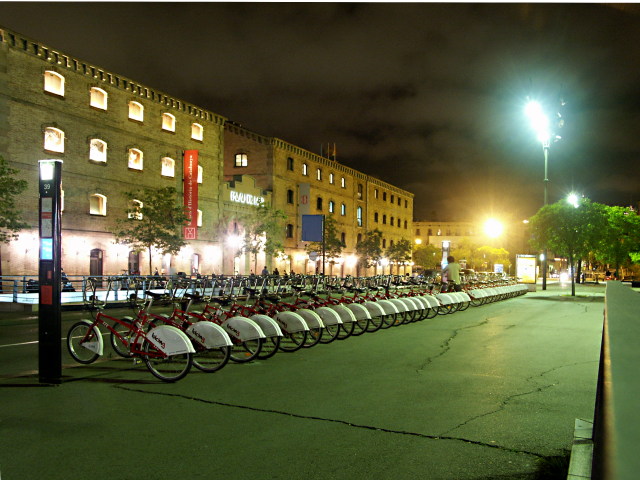 I have spent most of the time at the conference, and it is not possible to see even the most famous sights in such a short time. Few things I have found interesting:
The system of public bicycles (see above). I can't imagine having such a system in Brno (not only because of almost non-existent cycle roads).
Working system of public transport (their multi-fare ticket T-10 can be used even for funiculars).
Exceptionally wide main streets: usually a wide walkway and a cycle road on each side, two or three car lanes on each side, and sometimes a tram track between them. Also the street names were interesting: two of the biggest streets are named Paralel and Diagonal (which is not parallel to Paralel :-).
Interesting architecture (not only Gaudí's work).
Bilingual labels (in Catalan and Spanish). For a foreigner it is quite funny: you see a label in two very similar languages you do not understand, and none in English.
As for the conference itself, it has been a disappointment. Often the author of a well evaluated paper is not a good presenter. The most interesting presentations were those which showed at least some practical result (by practical I mean something that even I could understand, not something like "We have successfully used ontology in the context of X"). Probably the most interesting talk for me was the last keynote presented by somebody of Yahoo!, who has told pretty interesting details about their search engine and its distributed implementation.
In the same hotel as the conference there was a meeting of Japanese people living in Barcelona (or something), so at least I had an opportunity to say few Japanese words and to see real Japanese women in kimonos :-).
Wed, 04 Jun 2008
Mobile Devices
Today part of the display of my Palm Tungsten T5 stopped working. The time for a new mobile device (and a new phone to replace my Nokia 6310i) has come. I would like the new device (or devices) to have the following properties:
Must have:
bluetooth
SIM toolkit
PIM with synchronization with Linux (JPilot was extremely good)
good Linux compatibility (backing up data like phonebook, etc.)
audio player with OGG/Vorbis support
at least 2 GB of storage
application for car expenses (like AutoBase for PalmOS - at least calculate average fuel consumption and repair/maintainance costs)
web browser with UTF-8 support (including Japanese fonts) and JavaScript
Japanese dictionary (PAdict was excellent; searching words by an English equivalent, by pronnouncation and by Kanji required, Kanji info and stroke order optional)
application for securely storing passwords (like gnukeyring) with a desktop conduit
SSH client
camera (any will do)
WiFi
Prefered, but optional:
GPS (with Linux-compatible software for uploading maps; voice navigation not necessary)
keyboard
open source operating system
3.5mm headphone jack
camera software with QR-code and Semacode recognition
EDGE
I expect to have the above features split within two devices (but it would be nice to have a single one). So far I am considering the following devices:
Nokia E90

A single device. Linux support is apparently poor, Japanese dictionary is only as a non-free software.

Nokia n810 + some not so smart phone

The phone: probably Nokia 6300, or something other with EDGE, bluetooth and camera. As for n810 - the problem is that it is not officially sold in the Czech republic. The OS support is not excellent: I used to have a n770, but it quickly got outdated with applications being released for the newest OS version only, and the newest OS was not available for 770. I am afraid the same will happen to n810 when the newer version is released.

OpenMoko FreeRunner

It does not have a camera, and apparently does not support SIM toolkit(?). It is not oficially sold in .cz. But it is a single device, and have other cool features like accelerometers and both open software and hardware.
Any other types? Maybe Nokia E51? What would you buy, my dear lazyweb?
Tue, 03 Jun 2008
Google Shell
Probably the coolest thing I have seen in a while: Google Shell.