Thu, 19 Dec 2013
Arduino SCX Digital to USB interface
I have a SCX Digital slot cars set, and some years ago I bought an interface box for connecting it to the PC using a RS-232 serial port. PC then can be used as a timer, lap counter, and race management. Now I wanted to make some modifications to the firmware (it uses AVR Tiny 2313 chip). I have discovered that the author does not sell this version anymore, it has been replaced by a newer version with USB. So I kindly asked the author whether he can provide me the source code for the firmware for the old version. I have got the following reply:
Hi Jan
Sorry, I do not share any of my software.
Well, whatever. It is of course his choice to keep the firmware of the abandoned version for himself. But in the meantime, I've got some experience with electronics and microcontrollers (see my other projects).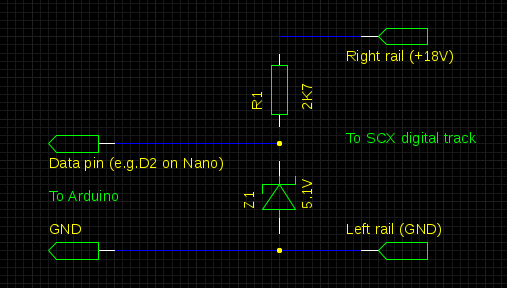 Introducing SCXreader, my own SCX-to-PC/USB interface, built with Arduino Nano. It is fully open, including the source code of the firmware. It costs about US$ 6.50, way less than the current SCX-to-USB SEB interface.