Error: I'm afraid this is the first I've heard of a "txt" flavoured Blosxom. Try dropping the "/+txt" bit from the end of the URL.
Tue, 19 Jan 2010
Digital Slot Cars
We have got a new slot cars set for Christmas. I had one when I was a child, and I quite liked to play with it, build and tune my own cars, etc.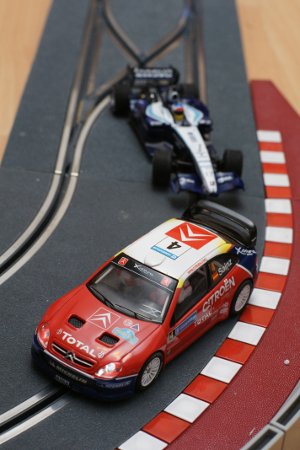 Several years later, we had an 8-track slot cars simulator in our SGI computer lab. Well, today's state-of-the-art slot cars systems are completely different beasts to what I used to know.
The system we have is SCX Digital 1:32. I have bought an F-1 set with one additional car (guess which one :-) and some track parts. The features and my experience so far include:
The speed of the car is communicated in a digital way rather that by changing the voltage in the rails, so it is possible to have several cars in a single lane without interfering with each other, to overtake, etc.
The car can change lanes using a separate button on a controller.
It is possible to race with refuelling in a pit box, and the players can choose their own refuelling strategy: a near-empty car is a bit faster, the car uses less fuel when not driven at full throttle, etc.
The cars are fast: the system has so called "junior mode" with a limited top speed, and a full speed mode, which is very hard to use without derailing frequently. Even in junior mode, I use the full throttle only in a finish line.
The cars have adjustable magnets under their rear axles, so they withstand much higher speeds in curves than what I had been used to from my childhood.
There is also a lap counter, but it counts the laps for the leading car only, so after derailing several times nobody knows whether he is two meters or two laps behind the leader. The full timer and lap counter can be bought separately, though.
The cars have adjustable electronic brakes. I usually set it to 0% in junior mode, and to 50% in full speed mode.
There are only two drawbacks: firstly, it is probably the most expensive slot cars system available, and then the F-1 cars are very brittle. Especially the mirrors of Ferrari are prone to snapping off. #