Mon, 30 Jun 2008
Barcelona
Two weeks ago (yes, I am too busy to write a blog now) I have been to Barcelona. One of the busiest tourist destinations in the world is definitely an interesting place.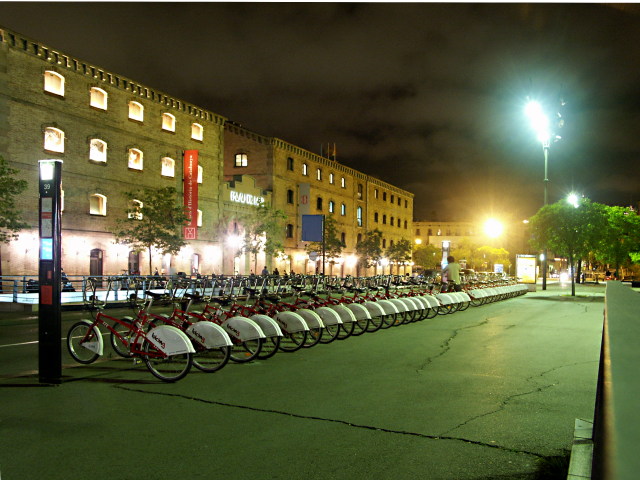 I have spent most of the time at the conference, and it is not possible to see even the most famous sights in such a short time. Few things I have found interesting:
The system of public bicycles (see above). I can't imagine having such a system in Brno (not only because of almost non-existent cycle roads).
Working system of public transport (their multi-fare ticket T-10 can be used even for funiculars).
Exceptionally wide main streets: usually a wide walkway and a cycle road on each side, two or three car lanes on each side, and sometimes a tram track between them. Also the street names were interesting: two of the biggest streets are named Paralel and Diagonal (which is not parallel to Paralel :-).
Interesting architecture (not only Gaudí's work).
Bilingual labels (in Catalan and Spanish). For a foreigner it is quite funny: you see a label in two very similar languages you do not understand, and none in English.
As for the conference itself, it has been a disappointment. Often the author of a well evaluated paper is not a good presenter. The most interesting presentations were those which showed at least some practical result (by practical I mean something that even I could understand, not something like "We have successfully used ontology in the context of X"). Probably the most interesting talk for me was the last keynote presented by somebody of Yahoo!, who has told pretty interesting details about their search engine and its distributed implementation.
In the same hotel as the conference there was a meeting of Japanese people living in Barcelona (or something), so at least I had an opportunity to say few Japanese words and to see real Japanese women in kimonos :-).