Fri, 26 Apr 2013
Tinyboard: ATtiny universal board
Having learned how to design PCBs, how to solder SMD components, and how to work with Atmel microcontrollers, I wanted to use this knowledge in more projects. I have thought about two or three things which I could do with ATtiny MCUs, but I didn't want to design a single-purpose board for each of them. Let me introduce Tinyboard, a multipurpose 24x50mm printed circuit board for 8-pin ATtiny MCUs (Tiny25/45/85, or Tiny13). The list of features includes: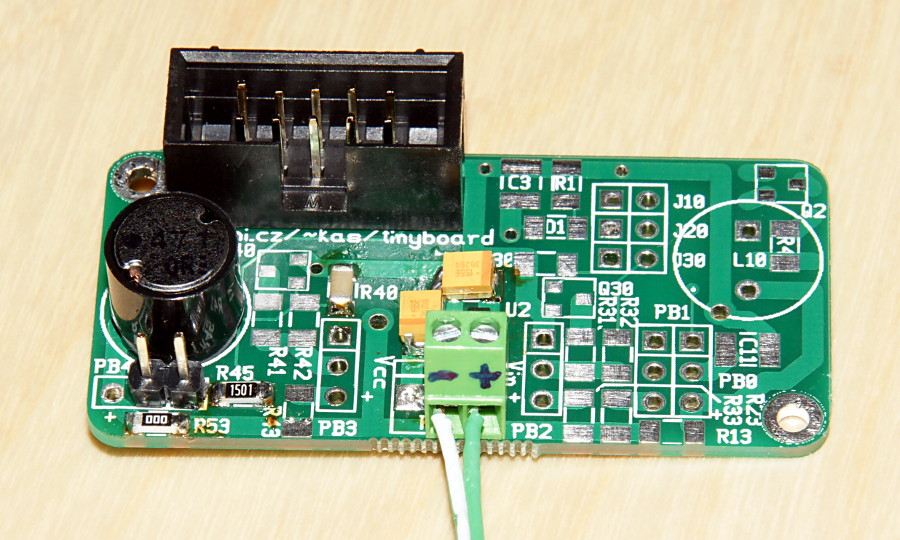 A Tinyboard with a single step-up converter, MCP1703AT voltage regulator, USBasp programming connector, and unstabilized power input. The MCU itself is on the bottom side.
Each of the five data pins can be repurposed as digital input, analog input with low-pass filter, output, MOSFET-driven output, etc.
Up to two Boost (step-up) converters with current feedback measurement can be built on Tinyboard, for example for driving a string of LEDs.
The board can use on-board voltage regulator, or use externally stabilized power.
Each ATtiny data pin has its own three-pin header on Tinyboard, with one pin for GND, one pin for Vcc (stabilized or unstabilized), and one pin connected to ATtiny pin.
More details are described in the Tinyboard project page. So far I have built a step-up converter with it, and I am considering using it together with 9V battery (the size is about the same) as a lighting solution for my kids' bikes. The PCB fab allows boards up to 5x5cm size, so I have put two Tinyboards in a single design, receinving a total of 20 tinyboards. So I definitely have spare Tinyboards. If you have a project using 8-pin ATtiny and you are near Brno, let me know.