Mon, 23 Apr 2007
The Tea Has Arrived
I got tired of buying 50 gram packs of Jasmine Green tea in Albert (a local supermarket chain) - it has required a lot of effort from my side to remember whether I already need a new pack tea or not. So I have looked for somebody who can send me - say - 1 kg of tea as a wholesale.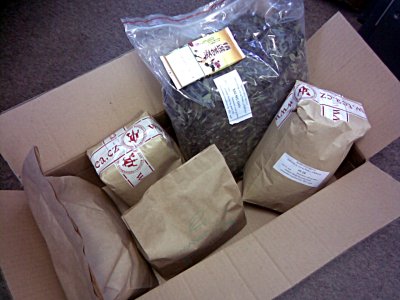 Last week I have finally managed to search the web for the wholesale distributors of tea in the Czech republic. Unfortunately almost all of them seem to require that the wholesale customer is a company (with the company ID number, tax number, etc.). I have nevertheless mailed them with a request that I want to order 1-2 kgs of tea, and asked for discount prices. Some of them have responded (one of them with rather poor discount offer, which I have declined).
I have ordered about two kilograms of tea from Dobrá čajovna (they gave me access to their wholesale price list), and two from Teanet-CN (who offered a discount price). Teanet-CN is (as the name suggests) a shop for Chinese teas only. I have decided to order higher sorts of tea than plain Jasmine Green, and despite of that I managed to stay below the per-gram price of Albert for most teas. Nice. As an additional bonus, in a next year or so I will always have the tea I want ready, without having to remember to actually buy it.