Fri, 08 Jun 2007
New Strings
Last week I broke the strings on my squash racket while playing with Míra Pečený. This week I played with new strings on my racket for the first time. It was excellent - the new strings were harder, and allowed more precise hits ...
... until I cracked the racket. Oh well.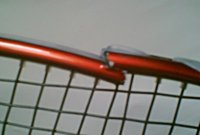 Does anybody know about a good e-shop with squash rackets? The one I used last time (esquash.cz) has been sold to some other owner since last time I bought something from them.