Mon, 20 Oct 2008
Xam'd: Lost Memories
It's been a while since I posted anything to the anime section of this blog. It is not that I don't watch anime anymore, it is just that I don't want to write about anime that is already widely known and appreciated (like Haruhi or Lucky Star). Recently I have discovered a new series, both good and unknown enough to write a blogpost about it.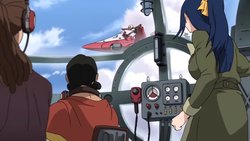 Xam'd: Lost Meories is a new series from Studio Bones (Fullmetal Alchemist, RahXephon, etc.). When I have seen the first episode, I thought: OMG, Eureka 7 with a different color key!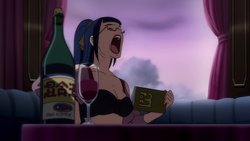 And yes, so far Xam'd is quite similar to Eureka: it has a flying ship with crew consisting of weirdos (this time the leader is an angry glass-wearing woman), working as a delivery service (this time delivering real snail-mail letters rather than a random cargo), it has a group of kids onboard,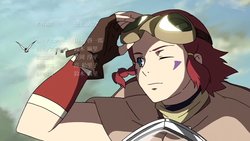 it has a smaller aircraft piloted by a cold-looking girl (altough Nakiami is a bit more lively than Eureka), it has aliens which are probably related to that girl somehow, it has an excellent opening song, and, of course, it has studio Bones' excellent animation and vivid backgrounds.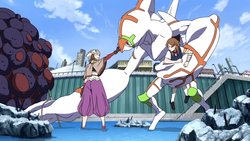 I will not spoil the story (after all, so far there are only 11 episodes out), but if you want something really worth watching, Xam'd: Lost Memories can be for you, especially if you liked Eureka (hi Vlasta!). If you haven't seen Eureka 7, watch it first so that you don't have to wait for further episodes of Xam'd. Hope they will create a better ending than the one in Eureka 7.