Welcome to my academic pages!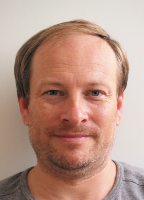 Prof. RNDr. Petr Hliněný, Ph.D.
Professor of CS
and the Vice-dean for research, development and doctoral studies
@ynenilhfi.muni.cz
Faculty of Informatics MU Brno, CZ
Botanická 68a, 602 00 Brno
Office C418
Main FI building, 4th floor
Calendar of my teaching, office hours, and duties
Scientific research - overview (read more)
The theory research group - Discrete Methods and Algorithms (DIMEA), FI MU Brno, CZ,
past Formal Methods, Logic and Algorithms (Formela).
My research directions in brief (and current research news):

discrete mathematics, graph theory (structural and topological), discrete geometry,
theoretical computer science - combinatorial algorithms, parameterized complexity, logic.

Current Ph.D. students (official listing): Deniz Agaoglu (since 2018-), Filip Pokrývka (since 2019-).
Selected past students: Robert Ganian (Ph.D. 2012) - now TU Wien, Martin Derka (Mgr. 2013) - now at Quantstamp, Inc.. Jakub Gajarský (Ph.D. 2016), - now University of Warsaw. Onur Cagirici (Ph.D. 2021) - now Ryerson University..
Collaborators - see the research page...
Research opportunities for students (more details):
A short list of selected recent publications (full list):
Petr Hliněný
Teaching and Academic matters (read more)
Petr Hliněný: official faculty personal page at FI MU Brno, CZ
My courses (official info, - read more)
Study programme of Mathematical Informatics (official info):

bachelor degree program offered for students who want to know more on mathematical background of Computer Science, and who would, perhaps, like to continue an academic career in theoretical CS,
great opportunities for theory research are offered to students already at the Bachelor level, among others within our research group.

Once again, an offer of my Bc/Ms thesis topics,
possibility of a PhD study at FI MU Brno, CZ - with stipend,
and numerous opportunities for students to join our theoretical research.